Online mobile casino, LeoVegas.com was named the Slots Operator of the year at this week's annual EGR Operator Awards – a glitzy event celebrating the most innovative and creative operators in the online gaming industry. The online casino was also the winner of the prestigious Affiliate Programme of the Year award.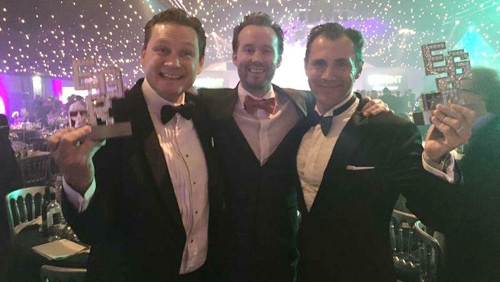 LeoVegas Gaming Ltd CEO, Johan Styren, said: "For us, the continued support of our customers is the best barometer of success. But, at the same time, to be acknowledged at an awards event of this calibre and against fierce competition, is a tremendous accomplishment for everyone at LeoVegas."
LeoVegas' win of the slots operator award means that it runs the most successful and innovative offering amongst all competing operators. The rigorous and thorough judging process in this category looked at all seven shortlisted nominees for their product offering, brand identity and marketing strategy. The winning operator is determined by scale, growth and revenue generation.
Furthermore, the winner of the Slots Operator of the Year award is given to the operator who excels in growth and commercial success, innovation and differentiation, has strong brand and play acquisition strategies and offer a quality product.
"Our slots are the most popular games at LeoVegas, with us offering more than 500 slots from 10 providers. We look forward to adding more slots in 2016, securing exclusives that we know our customers will love and ensuring we live up to our motto of being "first with the latest," added Johan Styren.
Winning the Affiliate Programme award means that LeoVegas was the operator with the best use of innovative and effective affiliate marketing strategies that drive customers to its casino. The panel of judges looked for programmes that use the full range of marketing tools available. They also looked at evidence of strong affiliate partnerships and effective use of brand messaging from amongst the eight shortlisted operators.
LeoVegas won this award for the innovation and creativity in its marketing campaigns, for its brand messaging, acquisition and retention of customers and also for its Affiliate relationship management.
On this award, Johan Styren said, "Having all the slots in the world wouldn't mean a thing if we weren't bringing people to LeoVegas to enjoy them and for that we thank the affiliates team at LeoVegas and the 500 plus partners we work with."
For media enquiries, please contact Paul ([email protected]), Claudia ([email protected]) or Rebecca ([email protected]) at Jaywing PR on 0800 051 9575.
About LeoVegas
LeoVegas is an online casino that provides world-class game entertainment and offers over 500 + games on mobile, tablet and your computer. LeoVegas is Europe's fastest and most user friendly mobile casino. With cutting edge technology, innovative data – driven marketing and a strong entrepreneurial management, LeoVegas has grown to become an m-Commerce sensation.
LeoVegas has won a number of awards including:
LeoVegas "Slots Operator of the Year" and "Affilliate Programe of the Year" – EGR Operator Awards 2015
LeoVegas Winner "Grand Prize for Summit Superstar 2015" – GP Bullhound's European Unicorn Summit Awards
LeoVegas Winner "Innovation in Mobile and Tablet" – EGR Innovation Awards 2014
LeoVegas Winner "Innovation in Mobile and Tablet" – EGR Innovation Awards 2014
LeoVegas "Mobile Casino Product of the Year" – EGR Operator Awards 2014
LeoVegas Winner "Slot App of the Year" & "Slot Game App of the Year" – Gaming App Awards 2014
EGR Power 50 – ranked no 1 most influential mobile gaming operators in 2014
LeoVegas Winner "Best Innovation in casino" – EGR Innovation Awards 2013
EGR Power 50 – After less than 2 years of operations, LeoVegas was placed on the EGR Power 50 list of the most influential gaming operators.