LeoVegas knows there's lots of money to be made in Brazil, and they hired men like Thomas Carvalhaes, LV Group Country Manager of Brazil and LatAm, to help them get at it. Carvalhaes will be attending the upcoming SBC Digital Summit Latinoamérica, but we caught up with him at ICE London recently to get a sneak peek at their strategy.
Carvalhaes explained to us that wherever your brand is from, you need to understand the local culture to build a strategy. "LeoVegas is a brand that started in Sweden, is a publicly listed company; however we have in mind that every market that we look at, and that we want to operate at, we do have local intel as basis for commercial and our business strategy," he said. "
Carvalhaes, having been born and raised in Brazil, can give that perspective. "I think it is very important to consider and to have very strong local intel and very strong local knowledge, because in a country like Brazil, we're a bit more emotional, we're relaxed and we like the relationship, we like relating to the other part, and it's very important to consider that," he added.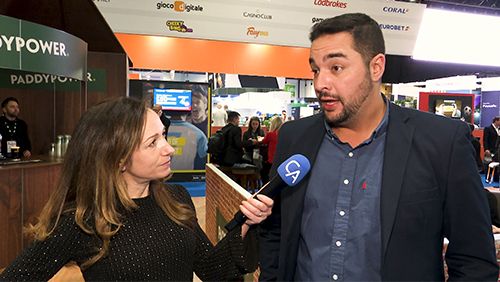 Rebecca Liggero Fontana asked if LeoVegas is looking to find local affiliates, or international affiliates looking to break into the Brazilian market. "As it stands, the Brazilian affiliate community is not very strong when it comes to iGaming and gambling for that matter because we just don't have the culture," he responded. "Land-based casinos have been forbidden in Brazil from the 40s. So from then on, there has been no exposure for casinos for Brazilians whatsoever. Having said though, the strategy is to get both. Both the digital marketing affiliates community to understand and to see the potential and the opportunities that this sector brings over to them, and also get the international iGaming, the specialist affiliates that we already work with, to include Brazil as one of their geos."
Brazil is still a gray market though, and Liggero Fontana wondered what Carvalhaes expects to happen with the regulatory front in the near future. "When it comes to the regulation, we as operators, we're waiting, we're very anxious, we're very excited of what's to come; however I can also see, and I can also state, that the market is developing by itself," he said. "It is evolving, we can see that by the numbers of payment methods that are being launched for Brazil, the numbers of international operators that are seeing Brazil's a potential market and going in there as well. The betting community only grows. More and more people are getting interested, so all these signs combined only shows us that the market is maturing, irrespective of the current regulated states."
Can the operators of the world help Brazil get to that regulated state? Carvalhaes thinks they can, but only as a team. "I think we should all get together," he said. "I think it's a matter of working in unity. I think, even though we're competitors, and naturally we're competitors, however it's a massive market. We're talking about 220 million people, it is the time that we as industry get together and tailor, almost like we tailor make the market, and the prospects to be what we expect or what we would like them to be. Not as influencing on how the regulation would like, that would be a conflict of interest, we don't want to get there, however we should be getting together. Affiliates, betting community, operators, we should be creating a bit more synergy around the topic, because in the end, it's a win-win situation."