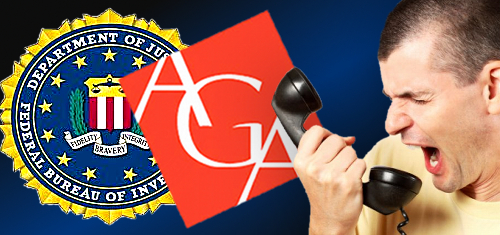 The American Gaming Association and the Federal Bureau of Investigation have announced a joint initiative to combat illegal online gambling, with a particular emphasis on sports betting.
In August, the FBI launched its Internet Sports Books Initiative in a bid to 'disrupt and dismantle criminal enterprises through prosecution and forfeiture." On Tuesday, the AGA announced it would aid this effort by promoting the FBI's Internet Crime Complaint Center (IC3).
The IC3 is an online tool intended to allow Mr. and Mrs. John Q. Public to submit tips and complaints regarding online crimes, regardless of whether they're the direct victim of said crime or an unaffected third party observer.
J. Chris Warrener, deputy asst. director of the FBI's Criminal Investigative Division, said the partnership with the AGA leverages the IC3 to combat "transnational organized crime groups that use illegal gambling, most notably internet sports gambling, as a means to finance other forms of violent and illicit activities." Geoff Freeman, CEO of the AGA, said his group's partnership with the FBI would help achieve "significant headway in the fight against illegal gambling."
The AGA declared war on illegal gambling in April, calling it a "pernicious form of venture capital investments" and "the mother's milk" that fueled "a host of violent criminal enterprises." Freeman invited Attorney General Loretta Lynch to join the AGA's Stop Illegal Gambling – Play It Safe initiative, which focuses on four key areas: illegal sports betting, unauthorized online gambling, black market gaming machines and internet sweepstakes cafes.
The AGA's anti-illegal gambling efforts are largely considered a public relations effort designed to promote AGA members and the products they offer as a legally viable alternative to the services offered by countless credit bookies whose names end in vowels.
Frankly, the war against credit bookies could be waged far more effectively if the US would simply climb down off its high horse and embrace legal sports betting like more progressive minded jurisdictions. Sadly, history teaches us that the puritanical US authorities overwhelmingly prefer to curse the darkness rather than light a candle, so FBI operators are standing by to take your call.
Comments