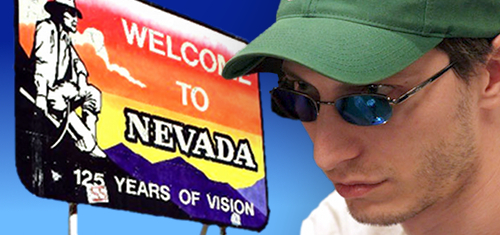 A Nevada judge has sentenced former Bitcoin online poker site operator Bryan Micon to probation for illegal gambling charges.
On Tuesday, Clark County Distrcit Court Judge Kerry Earley handed Micon a $25k fine and two years of probation for his role in the Sealswithclubs online poker operation. The sentencing, which also required Micon to forfeit certain items seized by police, follows a deal Micon worked out with Nevada prosecutors this summer.
Micon was formally charged with operating an unlicensed interactive gaming system in April following raids on his Nevada residence in February, during which the authorities seized a good deal of electronic gear and a small amount of Bitcoin. Sealswithclubs shut down a few days after the raid and Micon fled with his family to Antigua, where he launched a new poker site, SwCPoker.eu. By June, Micon agreed to return to the US to face the music.
Micon said little during his Tuesday court appearance except to acknowledge that he understood Judge Earley's warning that a violation of the terms of his probation could leave him looking at over two years in state prison. Should Micon successfully complete his probation, his felony charge will be reduced to a misdemeanor.
Micon's attorney Richard Schonfeld, part of the team that succeeded in getting illegal betting charges against Malaysian businessman Paul Phua dismissed this summer, told the judge that Micon would serve out his probation in Nevada while working for a company that makes remote-controlled drone devices. Once his probation is up, Schonfeld said Micon intends to permanently relocate to Antigua, where he has a job waiting in the technology office of a newspaper.
Micon's case was unique in that it was Nevada's first prosecution of an illegal online gambling operation since the state launched its regulated online poker market in April 2013. It also marked the first US state-lvel prosecution of a Bitcoin-only online gambling site.
Comments