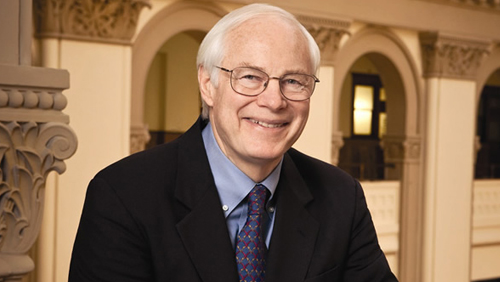 Former Iowa Rep. Jim Leach had no idea that the legislation he drafted in 2006 will pave the way for daily fantasy sites like DraftKings and FanDuel to operate today.
In an email with the Associated Press, Leach said the Unlawful Internet Gambling Enforcement Act (UIGEA) was meant to stop online gambling, not help daily fantasy sports "morph into today's cauldron of daily betting."
Online sports gambling is generally outlawed under the 1992 Professional and Amateur Sports Protection Act (PASPA), but DFS sites operate under the UIGEA carveout that they claimed allows them to operate in the 45 states that don't have specific laws in place for fantasy sports.
Leach, however, said the carveout does not provide DFS operators the immunity against federal and state laws. He explained the provision only exempts fantasy sports from "one law enforcement mechanism where the burden for compliance has been placed on private sector financial firms."
"It is sheer chutzpah for a fantasy sports company to cite the law as a legal basis for existing," the lawmaker said, according to the news agency.
Rivals FanDuel and DraftKings—reportedly valued at over $1 billion—promote their contests as games of skill, not gambling. These sites offer real-money contests where users pay an entry fee to choose their team and they stand to win cash prizes of lose their entry fee depending on how the players perform in real-life games.
The daily fantasy sports sector had been enjoying a surge in popularity due to its increased promotion and coverage throughout national TV broadcast networks. And then disaster struck: Last week, a scandal erupted involving a DraftKings employee that reportedly used inside information to win $350,000 on rival FanDuel's site.
The brouhaha prompted many shocked responses from DraftKings and FanDuel's partners, including the Major Baseball League and ESPN.
The sports broadcaster, which has a nine-figure advertising deal with DraftKings, announced last Tuesday that it is temporarily stopping the in-show integration of DraftKings with its programs. ESPN has already lifted the suspension over the weekend, according to SBC News.
Many lawmakers are keeping a watchful eye on the legality issue of DFS. New Jersey Rep. Frank Pallone was the first to call for a federal probe into the industry, while Massachusetts' Attorney General initiated a review into the sector.
The meteoric rise of daily fantasy sports can be compared to the popularity of online poker in the United States. Like poker, daily fantasy sports has captured the attention of the public by promising to make millionaires out of casual players, but they're also suffering from unwanted government attention and a murky legal landscape. The DFS industry is enjoying a carveout from Leach's 2006 act, which, incidentally, has caused online poker and other gambling sites to shut down in 2011. It's clear daily fantasy sports will have the same fate as online poker, it's only a question of when DFS's Black Friday moment will happen.