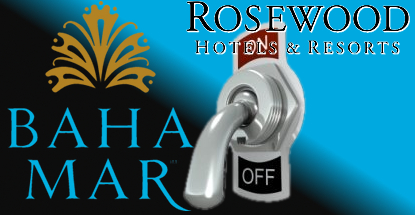 Efforts to reboot the stalled $3.5b Baha Mar casino resort in the Bahamas took another hit last week after a major hotel chain said it wanted out of the project.
This past Thursday, Rosewood Hotels and Resorts International filed a motion in the Delaware court handling the bankruptcy of the project's developer, Baha Mar Ltd. The developer filed for Chapter 11 protection in June after falling out with its primary contractor China Construction America (CCA) and its primary lender, Export-Import Bank of China (EXIM).
Rosewood, which is owned by Hong Kong-based New World Hospitality, wants relief from the automatic stay imposed by the Delaware bankruptcy court so that it can terminate the license agreement it signed with Baha Mar Ltd. in 2011.
Rosewood claims that its brand is being "diminished and tarnished each day as a result of its association with Baha Mar." More to the point, Rosewood says it continues to incur "costs and expenses for which it is not being compensated" due to the developer's "failure to perform and other incurable defaults,"
Rosewood also claims that its deal with Baha Mar prevents the company from "exploiting the Rosewood marks elsewhere in the Bahamas." Fearing that it will "suffer additional irreparable harm" if it is not allowed to ditch these bums, Rosewood wants permission to terminate its deal and "be relieved of its association with Baha Mar."
The oft-delayed Baha Mar project has endured one humiliation after another since it first ran financially aground during the 2008 global economic crisis. In July, Bahamian Prime Minister Perry Christie filed a winding-up petition with his country's Supreme Court to wrest control of the project from Baha Mar Ltd. Since then, Christie has attempted to negotiate a settlement between Baha Mar Ltd, CCA and EXIM that would allow work on the resort to continue.
Robert Sands, Baha Mar Ltd. senior VP of government affairs, said Christie's winding-up petition was what prompted Rosewood to lose faith. Opposition politicians piled on, with Free National Movement deputy leader K Peter Turnquest saying the "public wrangling" and "verbal sparring" between the government and the developer had left people fearing Rosewood's exit could be "the first domino."
Except it's not actually the first domino. In April 2014, the Morgans Hotel Group announced it was withdrawing from its deal to operate a 300-room hotel in Baha Mar. On Friday, Bahamian Tourism Minister Obie Wilchcombe told the Tribune that hoteliers Grand Hyatt, who have been tasked with managing a different 707-room hotel in Baha Mar, could be next to decide it isn't worth the hassle.
Wilchcombe urged the three squabbling stakeholders to resolve their differences quickly in order "to stop the hemorrhage." Wilchcombe said it would take a lot of marketing "to regain the confidence of the travelling public again … if you continue to pour negative stories over it … then nobody has certainty."