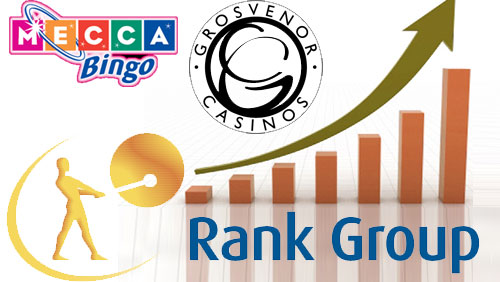 Bingo club and casino operator Rank Group has set its sights on further growth as it announced strong set of results and profit growth across all brands in the fiscal year ending June 30.
Henry Birch, Chief Executive of the Rank Group, announced full year group revenue of £738.3m ($1.2b), up 4% from the £707.7m posted during the previous 12 months.
The company enjoyed a 21% surge in digital revenue, while operating profits in its digital division climbed 14% to £3.1m despite the UK's 15% online gambling point of consumption tax, which has cost the group £6.6m since its introduction in December.
Rank's brick and mortar businesses Grosvenor casinos and Mecca bingo clubs reported revenue up 8% to £423.4m and 2% to £289.6 respectively.
Rank's statutory revenue rose 3% to £700.7m, while group earnings before interest, tax, depreciation and amortization (EBITDA) before exceptional items increased 9% to £126.3m. Group operating profit before exceptional items jumped 16% year-on-year to £84m while adjusted profit before tax jumped 19% to £74.1m.
Adjusted earnings per share were up 18% to 14.6p and Rank Group was able to pay out a dividend per share of 5.60p, up 24% from last year.
"Our 16% profit growth has translated into 18% adjusted EPS growth and a 24% increase in our annual dividend which is reflected in a strong balance sheet and lower debt," said Birch.
Rank Group's net debt was cut by 61% from £137 million in the 2013-14 fiscal year to £52.9m in the recent 12-month period.
"Alongside our strong operating performance, we have made good progress on our strategic objectives that we outlined 12 months ago, and we have a clear strategy for delivering sustainable profitable growth across all our brands," said Birch.
The company also plans to beef up its online poker offering in the current year, and will spend £4.5m to upgrade 18 Grosvenor casinos and open three new bingo venues.
Rank also announced a number of directorate changes during the review period. Chris Bell joined as the senior independent director and the company's audit committee in July. Susan Hooper, former managing director of British Gas Residential Services, will become a non-executive director effective September 1. Shaa Wasmund has informed the Rank board that she will not be seeking re-election as a director at the operator's Annual General Meeting on October 15th.
"We are delighted to welcome Susan to the Rank board. Her extensive experience gained within large consumer-facing businesses combined with her broad commercial non-executive experience will further strengthen our board," said Rank Chairman Ian Burke. "I would also like to take this opportunity to thank Shaa for her contribution to Rank. Shaa's experience in digital media has been invaluable to the board since she joined in 2012 and we wish her all the best for the future."
Comments