Lee Davy sits down with the CEO of Poker Atlas, John Friedberg, to talk about online gambling in the United States and his new product Table Captain.
Jon Friedberg: Poker Atlas, Table Captain and the US Online Gambling Affiliate Market Audio
Jon Friedberg is the CEO of Overlay Gaming Corporation, an entity that counts Poker Atlas and Table Captain amongst its subsidiaries. Friedberg is an entrepreneur who enjoyed a successful period in the game of poker culminating with gold bracelet at the World Series of Poker (WSOP).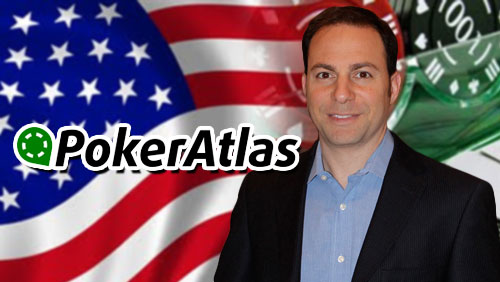 In this interview we talk about Friedberg's progression through poker, why he purchased Poker Atlas, how Table Captain works and his views on the US online gambling affiliate business.
How did you get involved in poker?
"I discovered poker when I was in college. I went to school in Arizona. We had Native American Tribal casinos with a legal age of 18. My freshman year in college we would venture out into the casino and kept losing money in slots. We finally found poker, our money lasted a little longer, and it became a lifelong hobby of mine."
What it always a hobby for you, or did you want to become a professional poker player at some point?
"When I was graduating from college I wanted to play poker full time. That was 1997. My father talked me out of it. He told me that poker would always be there, now is your time to start a career and build some equity for your future, so I took his advice.
"15-years ago I was leaving the last company that I sold, and was taking some time off, I decided to play more poker as a hobby, without working, and it ended up becoming a pro career for me for 6-7 years. Then I pushed it back as a hobby and moved into the entrepreneurial space."
And during this time you won a WSOP bracelet, talk about that?
"It was thrilling. Since the moment I had learned about the game and started reading all the magazines I would always see ads for the WSOP. It was always a dream to win a bracelet. I started playing events in 2004 and I was fortunate enough to have my day in 2006. I look back now and it still seems like a dream."
Business comes first then?
"It always has been. I really enjoy playing and it's a fun challenge, but ultimately I aspire to do so much more than I can achieve at the poker tables, both in terms of intellectual challenges and financially. It was a good time 10-years ago. The timing worked out well. Endorsement deals from a few sites, including PokerStars, helped. I have always had one foot in poker, and one foot in business, but it's more like one finger in poker these days."
Why did you decide to leave that behind and start Overlay Gaming Corporation?
"I found myself starting to use aggregation sites like Yelp, Trip advisor and Expedia more frequently than I was using individual company sites. I started to wonder why this didn't exist in the casino space, especially poker where my interest lay.
"There were a couple of sites out there, most of which focusing on the affiliate space, and promoting online poker and casino offers, so I took it upon myself to purchase some of the existing sites I could find: AllVegasPoker, PokerAtlas, VegasPokerNow with the bigger picture of merging them all into one destination so players could use it as a resource to make a more informed decision where to play, and I could build a business using that audience to refer player traffic to live and online casinos in the same way Yelp and Trip advisor does. Four years later I am still working with it, and having fun with it."
What have been your biggest challenges?
"Dealing with the anticipation of the launch of regulated internet gaming in the US has been a roller coaster. Waiting for the $20 billion industry, and only seeing a $200 million industry has been frustrating. Ramping up, scaling down, ramping up, scaling down – we finally stabilized and found our equilibrium but it's been a challenge working within the licensing framework and investing in a certain opportunity that ultimately didn't shape up into what we thought it would be, at least not yet."
Talk to me about Poker Atlas and Table Captain.
"Overlay is the corporation name. We do business sunder the name Poker Atlas. That's our web portal where people can see all the poker markets. Table Captain is a software system for land based poker rooms that powers all of their operations, their tournaments, cash games, player tracking and everything integrates with Poker Atlas so players can see real time information and promotions and later this year they will be able to register online for live events. It's an extension of the Poker Atlas brand, but a B2B software product that we are selling to land based casinos."
Are you competitors with Bravo?
"That's fair to say. It's certainly most comparable to Bravo although the products are very different. We integrate more with online operations. We also use touch screen technology as opposed to their touch key technology. Bravo was the pioneers about 10-years ago and still have a solid business. We are the newer generation of poker room management and a very focused marketing system."
What have you learned from the American poker community since taking over Poker Atlas?
"Poker is still going very strong here. What has changed is the emphasis of viewing pro players as celebrities, and players aspiring to be pros. Back in the heyday of 2005 people looked up to Daniel Negreanu, Phil Ivey, Phil Hellmuth and Mike Matusow. They were being watched on TV and people looked up to them and wanted to be them.
"Since Black Friday we still have a ton of poker traffic. Traffic on Poker Atlas is three-times greater than it was in 2010. The difference is people are interesting in what their poker friends are doing but they don't have the same inclination to quit their job to become the next Daniel Negreanu."
In 2012 you became the world's first licensed Interactive Gaming Marketing Affiliate granted by the Nevada Gaming Commission. For those that don't know what does that mean?
"For me it meant a lot of publicity, a lot of anticipation and hope to be a big business, but poker only in a single state which has a lot of transient traffic and not a lot of residents ii not a big business. It was monumental in respect of where the global iGaming industry is headed. I feel strongly that affiliates play a strong role, and the problem with affiliates misleading consumers in order to improve their own success is horrible for the industry.
"What Nevada did really sent waves throughout the industry and really caught on in particular in the US. I have a feeling that although most affiliates won't have to go through what I went through it will be standard tat affiliates will need some sort of proven integrity behind them or licensed background checking for the protection of an industry as a whole."
What are your hopes and aspirations for the US online gambling marketplace?
"I think the chances of any federal legislation for online gaming in the US is up to 1% from 0%. The only reason I have increased my feeling is the emergence of Daily Fantasy Sports (DFS) could possibly create poker to latch onto as a sort of a Trojan horse for legislation. Otherwise, legislation will be on a state-by-state basis, and it's in the interest of all states to share player pools like the lotteries do.
"That being said, the online gambling affiliate business in the US is not a big business. Our main focus is on Table Captain. The affiliate side of things is more long terms. We have relevant traffic and success on a limited basis regarding diverting traffic to online casinos. So we are positions well should iGaming activity pick up but not a business I would recommend people to focus on. There are probably several people making a decent living at it, but it's nowhere near what it was like several years ago."
Comments