Team PokerStars Online member Isaac Haxton admits he knew Brian Hastings was using the NoelHayes account, and Christian Lusardi sentenced for Borgata counterfeit chips scandal.
Isaac Haxton has admitted that he is the representative of PokerStars who knew that Brian Hastings was playing on the infamous NoelHayes account on PokerStars, allegedly using a VPN whilst playing from the US.
Haxton's name was first linked to the 2+2 thread, that is now 229 pages long, after David 'Bakes' Baker tweeted on 19 July: '@ikepoker knew at the beginning of SCOOP'.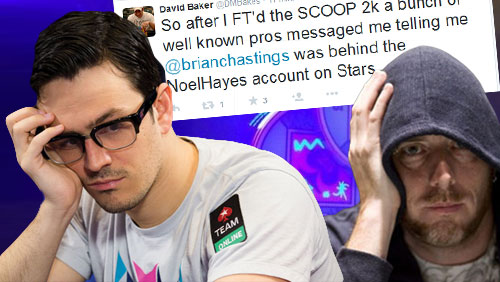 Responding to the same thread on 11 August, Haxton apologized to the 2+2 community for taking so long to respond, but explained his reasons were because the situation was 'under review' by his employer, PokerStars.
In the post Haxton thanked Baker for 'having the courage' to 'start the public conversation about the NoelHayes account' and that 'anyone who cares about the integrity of high stakes games online should be thankful to him.'
Haxton revealed that he became aware that Hastings was playing on the account in 'early May.' He also made it clear that he was 'far from the first or only person who knew,' but admitted that his relationship with Stars meant he 'had a greater responsibility to act.'
The PokerStars Team Online then apologized to anyone who was 'adversely affected by his inaction' regretted 'taking the apathetic and irresponsible route' and said that if he found himself in a similar situation in the future he would 'report the cheating immediately.'
The post created a mixed response. There were many who felt Haxton had done the right thing by coming forward when he could, understood his reasons for not doing so sooner, and that all should be forgiven. There were some who wanted their pound of flesh, and others who wanted more answers, in particular to the depth of knowledge Haxton had about the account.
Haxton responded again on 12 August by stating that he didn't conspire with Hastings 'to get action' and neither was he 'protecting his identity out of any sort of financial interest.' He then continued to explain that he had played 290 hands of zoom PLO games against the NoelHayes account in March and April and at that time 'had no idea' that Hastings was behind the account. Haxton then 'heard a rumor' it was Hastings before playing a further 130 hands against the same account, this time in May.
Then on the last Sunday of SCOOP Haxton explains that he ended up playing on the same table as the NoelHayes account, and this time Hastings reached out to him, via Skype, explaining it was him behind the account. After once again apologizing for not immediately informing Stars, he explained that it was the first communication he had held with Hastings in 'several years' that they weren't 'close friends' and had 'never had any sort of financial relationship.'
While Haxton was having to explain himself to the poker community – something he wouldn't have had to do had Brian Hastings not been using the account in the first place – Hastings was writing an e-mail (showcased on his blog) to Pennsylvania Senator Lisa Boscola to argue for his right to play online poker in the States.
'I used to play online poker also, but now I'm no longer allowed to do so in my own home country/state.' Wrote Hastings.
Noel Hayes is Allegedly the Sports Book Director at Betbright
A second thread has been started on 2+2 alleging that the person who created the NoelHayes account is Betbright Sports Book Director Noel Hayes.
The main piece of evidence seems to be a post that Hayes made on an Irish poker forum, back in 2007, where, posting as BigCityBanker, he posts a hand where it's clear that he is playing in an online tournament as NoelHayes.
BigCityBanker is the Twitter name of Betbright Sports Book Director Noel Hayes, and there is also evidence that he posts regularly on 2+2 under the same pseudonym.
Christian Lusardi Faces 5-Years in Prison
A story that no longer carries any reference of the word 'allegedly' is the one that involves the Borgata chip counterfeiter Christian Lusardi.
You may remember the World's Dumbest Criminal nominee was responsible for flooding the 2014 Borgata Winter Poker Open $2 Million Guarantee event with counterfeit chips, and then, after being identified as the responsible idiot, proceeded to try and flush the evidence down his hotel room toilet – over 500 chips.
Lusardi was later arrested but instead of serving time for the chip scandal, was sentenced to 60 months in prison and ordered to pay over a million dollars in restitution for an international DVD bootlegging operation. Harrah's Casino are said to be very grateful he didn't flush those down the toilet.
That doesn't mean his little Borgata exploits were forgotten.
In a press release issued by Acting Attorney General John Hoffman, the 43 year old from Fayetteville pleaded guilty to second-degree trademark counterfeiting and third-degree criminal mischief. The slap on the wrists includes eight years behind bars, a $463,540 restitution payment to the Borgata and $9,455 for the damage caused to Harrah's pipes.
"When you gamble on a flush in high-stakes poker, you either win big or lose big," said Colonel Rick Fuentes, Superintendent of the New Jersey State Police.