Secretary of Justice Leila De Lima has ordered the immediate deportation of Bo Wang, who has been accused of heading a P91-billion illegal gambling network in the Philippines.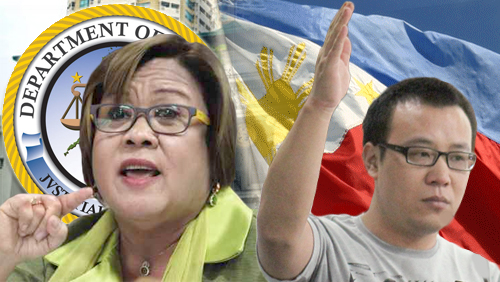 The Philippines' Department of Justice wants Bo Wang to leave the country now. Secretary of Justice Leila De Lima ordered the immediate deportation of the Chinese fugitive who has been accused of heading a P91-billion illegal gambling network.
In a resolution dated Aug. 4, 2015, De Lima reinstated the March 5, 2015 Summary of Deportation Order (SDO) against the Chinese national, saying there's no more reason for the order not to be enforced because she had already junked Wang's appeal.
"After a careful consideration of the grounds stated by the Movant, as well as the discussions proffered, this Office is unconvinced and finds no reason to reverse its June 8, 2015 resolution," De Lima said in a statement.
The Bureau of Immigration's (BI) Board of Commissioners (BOC) issued the deportation order against Wang on March 5. But last May 21, the three-man board removed Wang's name from the blacklist on rounds that there were no official documents showing that his passport was cancelled and that there was no warrant for his arrest.
This prompted the Chinese embassy to show proof that Wang's passport was cancelled, saying the man was a fugitive wanted by Interpol and the Chinese government for illegal gambling and money laundering. Embassy officials said Wang is suspected of opening casinos and illegal business operations, and the proceeds from those operations were being brought to the Philippines to be laundered.
BI Commissioner Siegfred Mison decided to defer Wang's release. When the board reconvened on May 26 to discuss the case, Mison was outvoted by the two other members—Assistant Commissioners Abdullah Mangotara and Gilbert Repiz—who favored granting Wang temporary liberty.
Mison elevated the case to De Lima, who came out with a resolution on June 8 reversing the BOC resolution. But that resolution was not immediately carried out since the National Bureau of Investigation had yet to finish its probe into allegations that Wang bribed the BI officials who approved his release. According to reports, Repizo cut a deal with Wang's people to order the man's release in exchange for P100 million for BI and another P440 million for some lawmakers, including De Lima.
However, NBI reported in its initial findings that "the team did not find any direct or indirect pieces of evidence pointing to pay-offs between the party of Bo Wang and any official/employee of the Bureau of Immigration."
De Lima said NBI's probe into the alleged bribery involving Wang "can no longer serve as an obstacle to immediate deportation."
Wang was arrested by immigration authorities at the Ninoy Aquino International Airport when he flew in from Malaysia on February 5. Detectives said the Chinese national had been using Cagayan Economic Zone Authority (CEZA) visa to travel in and out of the country since 2009. He is currently being held in the bureau's detention facility.