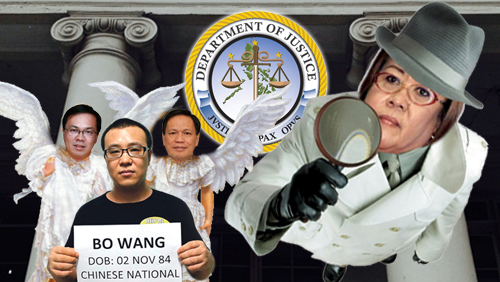 Philippine Justice Secretary Leila de Lima has summoned two immigration commissioners to explain why they voted to give temporary release for Chinese fugitive Bo Wang.
Bo was arrested in February upon his arrival in Manila. Acting on a request from the Chinese government, the Philippine Bureau of Immigration and Deportation (BID) ordered Bo deported on March 5. However, Bo's camp moved for reconsideration of the deportation order, and he was eventually taken off the Philippine government's blacklist.
The Chinese government then cancelled Bo's passport and sent a representative to personally hand the additional documents to the BID to prove that he is a fugitive.
Immigration Chief Siegfred Mison voted to deport Bo, but he was outvoted by commissioners Abdullah Mangotara and Gilbert Respizo, who favored granting Bo's temporary release.
On Thursday, De Lima questioned Mangotara and Respizo regarding their votes. The BID commissioners cited some technicalities, such as the documents included in China's request for deportation not being authenticated, but denied taking bribes from Bo.
After the meeting, De Lima said she had yet to determine if there is a basis to initiate a DOJ investigation.
The Manila Standard's sources confirmed on Friday that Mangotara admitted that it was Repizo who met with Bo's representatives and cut a deal to order Bo's release in exchange for P100m for the immigration department and P440m for some lawmakers.
Mison did not confirm this report but said that a key official was "ready to reveal the truth" behind the May 21 release order for Bo.
Meanwhile, House Speaker Feliciano Belmonte Jr. authored and filed House Resolution 2151, which calls for a probe on allegation that the funds raised from Bo were delivered to the Office of the Speaker of the House of Representatives and used by the Liberal Party to influence the outcome of the Committee hearings on the Bangsamoro Basic Law.
"We want to investigate the (BI) for the allegation of fixing by Wang Bo. The three commissioners are pointing at each other. If there is finger pointing, there must be some truth to it," Belmonte told the reporters.