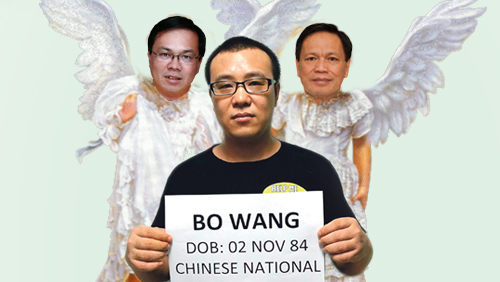 Chinese fugitive Bo Wang has been using Cagayan Economic Zone Authority (CEZA) visa to travel in and out of the Philippines since 2009.
Chinese national Bo Wang was arrested by immigration authorities on February 5 as he arrived at the Ninoy Aquino International Airport from Malaysia. He was found to possess a cancelled passport and his name was on the Bureau of Immigration and Deportation (BID) blacklist.
Chinese Consul Fu Yunfei wrote a letter, dated Feb. 15, 2015, informing BID that Wang is wanted for heading an "illegal online-gambling operation."
A summary of the deportation order was issued by the Immigration Board on March 5 along with associate commissioners Abdullah Mangotara and Gilbert Repizo. However, a release order was issued on May 21st, reportedly after a private meeting where the associate commissioners were able to raise funds to pay lawmakers to vote for the Philippine president' Bangsamoro Basic Law (BBL) — a drafted law intended to establish the Bangsamoro political entity in the Philippines.
The commissioners allegedly raised P100m for the department while some P440m were allocated for some 292 lawmakers and undisclosed amount for some senators.
The Chinese Embassy protested Wang's release and sent Chinese consul Fu to personally give the documents to Philippine Justice Secretary Leila De Lima on May 26th, showing that Wang was suspected of opening a casino in "transnational network gambling" with satellite connection to a Manila firm called Skybet (not associated with a British-based Sky Betting and Gaming brands) and is wanted in China to face the death penalty.
De Lima suspended the release order and maintained the deportation order.
"I had to intervene so as to prevent his release. Otherwise, it would be difficult to locate him for deportation as requested by the Chinese Embassy. Now reviewing his case on appeal to DOJ," De Lima said to the Manila Standard.
A CalvinAyre.com source who was familiar with Bo Wang but didn't want his name used in the story, told us what he knew of Wang: He started off in customer service at Dafabet. He was really quiet and unassuming and didn't seem like the type of person to be involved or at least not the 'Kingpin'. Our source further speculated that Wang was "likely just the front man for the operation and far from the top of this organization. The brains are probably back in China and Wang is just the patsy."
Wang's lawyer Dennis Manalo denied the charges and said that his client has a CEZA work visa with a two-year validity from May 4, 2013 to May 4, 2015 through ELC Technology Consulting Co. Inc. Wang has been travelling in the Philippines since 2008 and was a visa holder since 2009.
According to the Manila Standard's sources, although the release order was halted, the cash was still delivered to the Philippine House of Representatives, an allegation that was denied by its members.