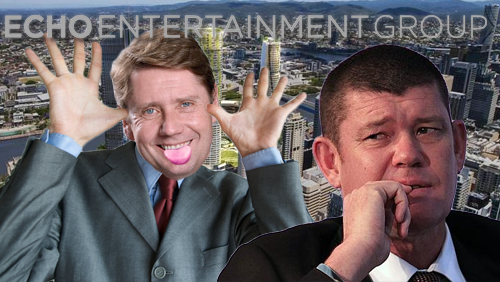 Echo Entertainment has won the right to build a new Brisbane casino, beating rival James Packer's Crown Resorts.
Premier Annastacia Palaszczuk announced the decision, following the independent panel's recommendation, which was signed off by Cabinet on Monday afternoon.
"The independent panel went through a number of criteria and we'll be going through this in more detail tomorrow [Tuesday], but one of the signature efforts was this large amount of public space that families will be able to enjoy," said Palaszczuk.
"Plus the probity checks, as well as the consortium was able to demonstrate to the government that they are ready to proceed," added Palaszczuk. "We needed to have that financial security but also we wanted to minimize any risk. So this is a good announcement, it is fantastic for Brisbane and I am quite sure the people of Brisbane will embrace the new Queens Wharf development."
Echo intends to relocate its Treasury casino and 1600 poker machines to the Queen's Wharf precinct and will transform Treasury into a shopping center and a Ritz Carlton hotel.
The $2 billion development pitched by Echo will feature a Sky Deck, with restaurants and bars fully accessible to the public, five hotels — including three six-star hotels, fifty restaurants and bars, a new River Arena and a moonlight cinema.
Echo is developing the project with Hong-Kong based business partners Chow Tai Fook and Far East Consortium, collectively known as the Destination Brisbane consortium (CBD).
"This development will transform Brisbane's CBD. Construction means thousands of jobs. Some 3000 during construction and 8000 ongoing jobs," said Palaszczuk. "We are very excited about this proposal and what it means for Brisbane – making it a premium tourist destination."
The construction phase is due to begin in 2017 and will be completed in 2022.