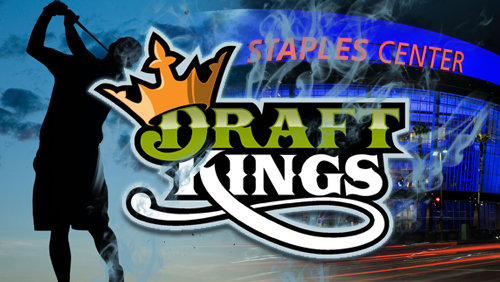 Daily fantasy sports operator DraftKings has signed a three-year marketing partnership with the Staples Center, becoming the official Daily Fantasy Sports Partner of one of the biggest arenas in the U.S.
Staples Centre is the home to the Los Angeles Lakers and the Los Angeles Clippers of the National Basketball Association (NBA), the Los Angeles Kings of the National Hockey League (NHL), and the Los Angeles Sparks of the Women's National Basketball Association (WNBA).
The arena has hosted over 250 events with over 4 million guests annually such as NBA and NHL All-Star Game, Grammy Award shows, MTV Music Awards and numerous concerts from artists including the Rolling Stones, Prince, U2, Taylor Swift, Jay-Z, Beyonce and more.
Under the deal, DraftKings will have naming rights to a new fantasy sports bar and lounge to be built at the Los Angeles arena. The 4,400 square-foot DraftKings Fantasy Sports Bar & Lounge, which is set to open in September, will enable guests to follow their favorite players and teams and all of the live action of the event taking place inside Staples Center via more than 35 Toshiba smart televisions, six Toshiba Virtuoso Screens, fifteen Microsoft Surface tablets and four iMacs.
"With the opening of our first DraftKings Fantasy Sports Bar & Lounge of its kind, we are creating the premier destination for Los Angeles sports fans to watch games, play daily fantasy and socialize over great food and drink," said DraftKings CEO Jason Robins. "We will bring DraftKings players closer to the action each day with live broadcasts, VIP experiences, special guests, and ticket giveaways."
DraftKings will also receive increased exposure throughout the Anschutz Entertainment Group-owned Staples Center, including digital signage within the arena, concourse presence and customized digital exposure including official web-site and social media presence.
"We are always looking for new and innovative ways to enhance Staples Center's guest experience while highlighting our partnerships with the industry's most dynamic companies," said president of Staples Center and LA Live Lee Zeidman. "This partnership will not only launch what we believe will be a signature and entertaining hospitality destination for our fans but will create numerous opportunities for us to introduce and showcase the exciting and original concepts being developed by DraftKings."
DraftKings' PGA $3M Millionaire Maker fantasy contest
DraftKings is not only spending heavily on advertising and partnership deals with sports leagues, stadiums, and TV networks in an attempt to lure more players, it is also raising the stakes in its sports contests.
DraftKings is paying out $3 million total via its PGA $3M Millionaire Maker fantasy contest for golf's third major of the season—the British Open Championship. For a $20 entry fee, you get your shot at the top prize of $1 million while second place wins $100,000 and third gets $50,000.
Rory McIlroy may be sitting at home watching this year, but there are still plenty of big names such as Jordan Spieth, the favorite to win at 6/1 followed by Dustin Johnson at 14/1 and Adam Scott at 16/1.
The event will commence on Thursday at St. Andrews in Scotland.
Odds courtesy of Bodog
Comments