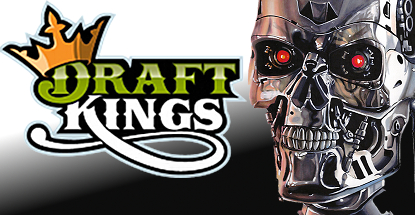 Daily fantasy sports (DFS) operator DraftKings is catching hell for changing its terms of service to accommodate the use of automated software by its high-volume multi-entry players.
On Wednesday, DraftKings' director of customer experience Jon Aguiar posted news of the change in RotoGrinders, a forum for DFS junkies. Aguiar said that while DraftKings' policy had been to "disallow automated access or scripting on the site in all cases," the company had changed its tune following "a long internal discussion."
Going forward, Aguiar said DraftKings will allow the use of scripts to "automate a short list of time consuming behaviors," including creating a contest, creating a lineup, editing a lineup, entering a guaranteed contest and withdrawing from a guaranteed contest. There is "no other scripted or automated behavior that will be tolerated" and violators could face penalties "up to and including forfeiture of all winnings/balances on the site."
Reaction to Aguiar's post has been mixed. Some players argued that DraftKings was simply recognizing already widespread practices while other players accused DraftKings of essentially grandfathering 'disallowed' behavior by its power users – without penalty for previous transgressions – in order to preserve the volume of entry fees flowing through its system, thereby allowing it to continue promoting its ever-ballooning prize pools.
While the automated tools in question don't help players select better teams, they do allow players to react far more efficiently to late roster or weather changes, which would definitely give them an advantage over some player attempting to manually edit a hundred or more lineups in a short timeframe.
Some players are calling for DraftKings to make such automated tools part of their site and therefore available to all players. As one player put it, DFS is increasingly heading in a direction of 'my algorithm versus yours.' Skill game, anyone?
The arguments against the use of such technical aids will be all too familiar for online poker players, who have had to deal with all manner of software tools employed by tech-savvy players to give them an edge over neophytes, who either lack the coding skills to follow suit or weren't even aware that such technologies exist.
There was a time when most online poker sites catered to the needs of the guys playing 24 tables at once. How'd that work out again?