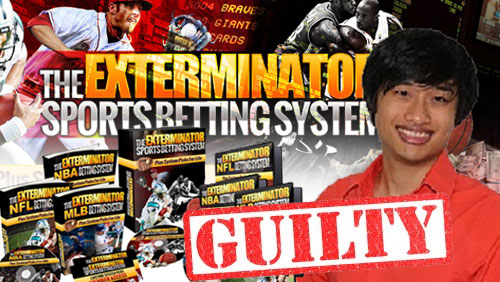 Tony Chau, founder of sportsbettingchamp.com and author of Exterminator Sports Betting System, has pleaded guilty in federal court for running an illegal gambling operation and hiding more than $1.5 million from the IRS.
A math geek with an intense passion for sports and statistics, Chau founded his first sports betting system The Sports Betting Champ in 2007, published under the name "John Morrison."
Chau/Morrison acted as an affiliate for the bookmaker BetOnline. He stated in his blog that this affiliation allowed him to negotiate great deals with sportsbooks (extra deposit bonuses, extra redeposit bonuses, higher betting limits) for his customers. As a US citizen, this got him into legal trouble and his domain was seized by homeland security.
According to a plea agreement unsealed on Thursday, Chau operated the now-closed sportsbettingchamp.com with help from offshore sports books in Costa Rica and Panama, which do not have Nevada licenses.
Chau also said that he referred customers to offshore sports books to set up betting accounts and he received a commission from customers' losses. He then wired his commissions to a third-party bank account "with the intent to promote the carrying on of the illegal gambling business and to conceal and disguise the nature, location, source, ownership and control of the proceeds."
The IRS investigation revealed that Chau failed to report the $1.5 million commission he received from the offshore sports books on his tax returns between 2008 and 2011, which left him with an unpaid tax bill of $567,571.
As part of Chau's plea deal, he has agreed to pay his IRS bill and forfeit $1.4 million in cash and property.
Chau pleaded guilty Wednesday to three charges including conducting an illegal gambling business, money laundering and making a false statement on a tax return.
The agreement also indicated that Chau started the illegal gambling business in 2007, while he lived in Massachusetts and continued in 2008 after he moved to Las Vegas.
Chau is scheduled to be sentenced on Aug. 5 before U.S. District Judge Richard Boulware.