Kansas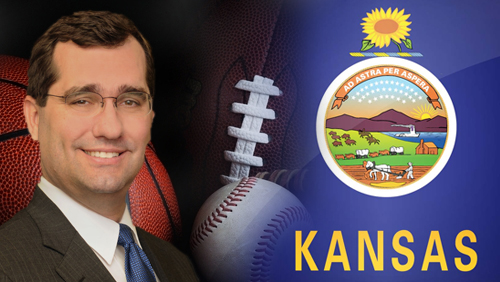 Attorney General Derek Schmidt released an opinion that fantasy sports leagues aren't considered illegal lotteries under state law because they are games of skill.
Schmidt issued the legal opinion on Friday at the request of a Kansas House member who opposes gambling. In defining fantasy sports, the proposal says fantasy sports contests are determined by the skill of the participants while in lottery, chance determines the outcome.
The opinion opposed the previously published position of the Kansas Gaming and Racing Commission (KRGC).
"If fantasy sports leagues fall within the definition provided in [the law], then fantasy sports leagues are games of skill and therefore are not lotteries," the memo concluded. "Under federal law, Congress has determined that fantasy sports leagues are games of skill."
For several years, the KRCG had indicated on its website that "chance predominates over skill in fantasy sports leagues" and that "if a fantasy sports league has a buy-in (no matter what it is called) for its managers and gives a prize, then all three elements of an illegal lottery are satisfied."
The commission took the passage about fantasy sports down from its frequently asked questions page in 2012 to rewrite it, but some people misinterpreted that to mean the commission had relaxed regulations.
In August 2014, the commission published the revised language on fantasy sports to its site but KRGC council Judy Taylor explained that it's just a mere interpretation of the commission. KRGC doesn't have the power to prosecute anyone for betting on fantasy football and has no say in the legality of fantasy sports betting.
The commission's statement caused many fantasy sports operators to question the legality of fantasy sports within Kansas' borders. Major daily fantasy operations such as FanDuel and DraftKings continued to allow users in Kansas to enter fantasy sports competitions that awarded prizes, while others such as Star Fantasy Leagues stopped accepting customers from Kansas.
With Schmidt's clarification of the law, the road is now clear for Kansas lawmakers to push a proposed new bill, House Bill 2371, that will ensure fantasy sports leagues for prizes are legal within the state's borders.
Kansas is one of a number of states considering DFS-related legislation in 2015, including Illinois, Indiana, Iowa, Kansas, Louisiana, Montana, Texas and Washington.  The recent rush to regulate fantasy sports was triggered by new investments in the industry by entities such as Major League Baseball, the National Basketball Association, Comcast, Yahoo, and even Walt Disney.
Comments