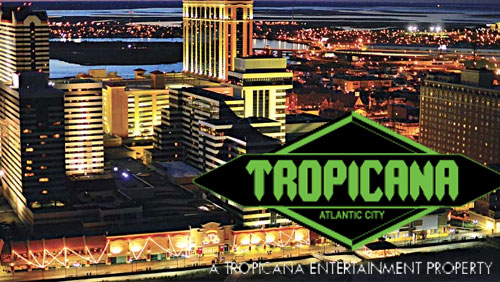 A $50-million renovation of the Tropicana Casino & Resort Atlantic City that includes upgrades to its North Tower hotel rooms, a completely renovated casino, an all-new fitness center and a spectacular light and sound show is due to be completed by Memorial Day Weekend.
A free multimedia light and sound show on the property's re-imagined Boardwalk façade is one of the highlights of Tropicana's makeover. Daily high energy and ever-changing shows, massive LED screens, strobe lights and continuous digital media displays will light up the night in a choreographed multimedia performance.
The multimillion-dollar renovation also includes a floor-to-ceiling makeover of Tropicana's 434 North Tower hotel rooms and complete transformation of the North Tower casino floor, including the addition of 10 North, a new lounge with a double-sided fireplace, cozy seating and bar-top slot machines is scheduled to debut in July.
The AtlantiCare LifeCenter Fitness, a partnership with AtlantiCare, opens May 8. The two-story, 12,455-square-foot fitness center will offer hotel guests and the public the latest fitness equipment, devoted to the resort's non-gambling amenities.
The property is also home to more than 122,000 square feet of meeting and event space that includes a spacious ballroom, exhibition center, and a 2,000-seat theater.
1,400 Casino Jobs Are Now Available In Atlantic City
According to a survey by the New Jersey Casino Control Commission (CCC), there are 1,400 jobs available right now in Atlantic City's casinos, but only 350 of them are full-time positions.
"There have been two job fairs in Atlantic City this week — events that underscored how significant the unemployment challenge is in the Atlantic City area — and news reports about them quoted people who said they were desperate to find work," said CCC Chairman Matt Levinson.
Levinson told the Associated Press on Thursday that he contacts GMs at each casino company here to get an idea of just how many job openings are currently available. Of the 1,400 vacant positions, most are temporary seasonal jobs for the summer.
"Yes, there are a lot of seasonal and temporary jobs out there, but there are jobs available immediately at Atlantic City's casino hotels that can provide a meaningful employment for a significant number of people and a short-term boost for others that could lead to full-time employment down the road," Levinson added.
Comments