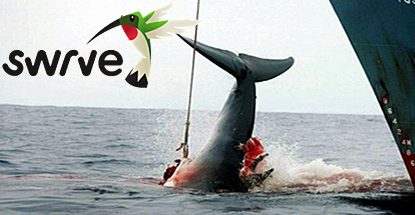 Social and mobile gaming companies are ever more dependent on so-called 'whales,' who make up a tiny fraction of the overall player base but can account for two-thirds of gaming revenue.
San Francisco-based mobile marketing automation firm Swrve recently released its 2015 Mobile Monetization Report, which crunched the data of 20m free-play mobile gamers across 40 different game titles during the month of January.
The data shows that just 2.3% of all players made an in-app purchase with real-money, or what gaming firms refer to as 'bookings.' Even more staggering, a mere 0.23% of players accounted for 64% of bookings revenue.
Social gaming's reliance on 'whales' has long been recognized, but Swrve's data is even more startling than the 2012 Macquarie Securities report which showed 0.5% of Zynga players accounted for 70% or more of the company's non-advertising revenue.
According to Swrve, the 2.3% of players who purchase virtual goods rate is an improvement from 1.5% in its 2014 survey. What's more, the average time to first purchase was 15 hours, down from just under 24 hours in 2014, which Swrve says is evidence that successful titles are getting better an incentivizing early spending. Nearly 70% of all in-app purchasing comes within the first three days of play.
Among paying customers, 44% made a single purchase, while 20% made five or more purchases. The typical paying player made 3.5 purchases in the month of January, spending an average of $8.27 per purchase. Average monthly spend was $29.17, up nearly one-third from 2014.
'Mid-tier' virtual sales of items priced between $11 and $20 accounted for 38.6% of revenue, up from 22% in 2014. Purchases between $21 and $50 accounted for around 23% of revenue while purchases over $50 scored nearly 14%. Purchases under $5 represented 55% of all purchases yet just 13.4% of revenue, the latter figure down significantly from 27% in 2014.
Swrve CEO Christopher Dean said the numbers suggest that while mobile gaming is "still reliant on a relatively small but growing number of players, there is a clear trend towards a broader payer base and a more sophisticated approach to driving revenues." Dean believes mobile gaming firms were moving beyond the acquisition phase as they realized "success is determined by what happens after the install."