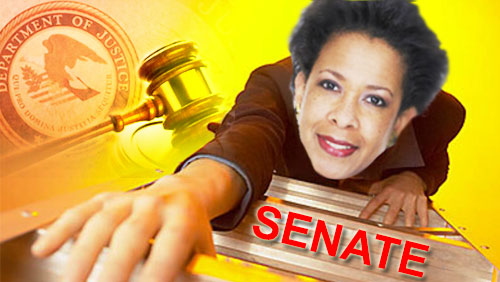 [polldaddy poll=8666579]
President Obama's pick to serve as the next attorney general, Loretta Lynch, is having a hard time finding Republican supporters. She has said she's unlikely to reverse the Justice Department's 2011 opinion on the scope of the Wire Act, so we asked our readers, "Will Loretta Lynch reverse the DOJ's Wire Act opinion once confirmed as attorney general?"
55% said, "No" while 45% voted "Yes."
During a confirmation hearing before the Senate Judiciary Committee last month, Lynch was asked by Sen. Lindsey Graham about her familiarity with the 2011 DOJ opinion that confirmed the Interstate Wire Act of 1961 referred only to sports betting. Lynch initially said that she was familiar with the opinion but hadn't studied it in detail, but in a follow-up written response, she said that, if confirmed, she was unlikely to reverse the DOJ's present position.
Despite Republicans having different opinions on topics such as online gambling and the legality of the president's executive action on immigration, Lynch's nomination was approved on Thursday by a 12-8 vote, advancing her nomination to a vote by the full Senate.
All eight 'no' votes came from Republicans, including committee Chairman Chuck Grassley. The chairman defended the delay in holding the vote, saying that the panel needed to gather more information on Lynch's role in settling a $1.9 billion money-laundering deal with HSBC during her term as US Attorney in New York.
Several Republicans also said that they don't believe that Lynch would be willing to stand against the president if needed and approving Lynch would mean approving Obama's policies.
"A vote for this nominee, in my opinion, who favors and will defend this unconstitutional action, does provide support for the president's agenda, and I don't think we should provide that," said Sen Jeff Sessions, one of the Republicans who voted against Lynch.
Sen. Orrin Hatch, one of the three Republicans who supported Lynch, criticized his colleagues for opposing Lynch based on some of her testimony before the committee.
The full Senate is expected to vote within the next two weeks.
Next week, we ask, "Were SealsWithClubs' technical issues and police raid related?" The Bitcoin poker site was shut down on Feb 11, the same day the home of founder Bryan Micon was raided by police. Join our weekly poll and check back next week for the result.