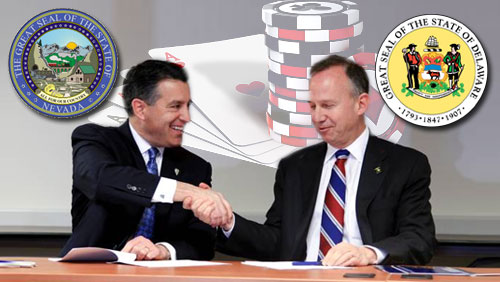 The states of Nevada and Delaware could soon share online poker liquidity, after Nevada Gov. Brian Sandoval told journalist Steve Tetreault that the Multi-State Internet Gaming Agreement could be launched within the next 4-6 weeks.
Online poker players in Delaware could soon be facing off against opponents living in Nevada.
One year has passed since Nevada Gov. Brian Sandoval, and Delaware Gov. Jack Markell, shook hands on a deal that would allow the two states to share online poker liquidity. Only tumbleweed has emerged since.
Is all that about to change?
It is, according to journalist Steve Tetreault.
After being tipped off by OnlinePokerReport's Chris Grove, I learned that Tetreault was speaking to Gov. Sandoval about a homeland security bill when he confirmed that plans to share online poker liquidity with Delaware 'should go live in four to six weeks.' The delay appears to be at the feet of the Nevada gaming regulators with 'technical glitches' cited as the cause of delay.
In interview, NV @GovSandoval says shared #webpoker with Delaware could be up and running in 4-6 weeks. Coming soon #lvrj

— Steve Tetreault (@STetreaultDC) February 23, 2015
At the time of the deal there were three online poker sites operating in Nevada: Ultimate Gaming, Caesars Entertainment's WSOP.com and Real Gaming. That number is now two after Ultimate Gaming followed up their Sep departure from the New Jersey market with a Nov withdrawal from Nevada.
The Delaware market is dominated by 888 Holdings, who in May 2013 were appointed alongside Scientific Games Corp. and Williams Interactive LLC as the online gambling software for the Delaware State Lottery on a five-year deal.
If the Multi-State Internet Gaming Agreement (MSIGA) was to come into play, only WSOP.com would seemingly benefit. The brand was launched in Nevada through the All American Poker Network "AAPN" – of which 888 Holdings is a member – and they use 888's gaming platform and technology. The pair also recently announced player-pooling experiments in the New Jersey market.
The news cannot come quick enough for both ailing states. There aren't any recent online poker financial records for Nevada, due to the fact they need three operational sites to release the info, but Strip gaming revenue as a whole declined for the fifth straight month. Live poker was down 4.4% year-on-year. Online poker was not exactly setting the world alight hence Ultimate Gaming's departure.
Interest in Delaware's online poker market is about as exciting as the recent Hunger Games movie. Dec results were down 77% year-on-year as the three racinos only brought in $28,589 in online poker revenue.
But it's not the numbers that should excite us. It's the passing and implementation of the new laws. It sets a precedent, it allows mistakes to be made, and other states to learn from those mistakes. I have a vision of my Grandma knitting. One day it just looks like a piece of string. A few days later it's a jumper.
Loop by loop.
State by state.
Let's knit ourselves a new online poker playing community.
Comments