World Series of Poker Main Event third place finisher, Jorryt van Hoof, will be the special guest star at the upcoming British Poker Awards, due to take place at the Hippodrome on Monday, 23 Feb 2015.
The British Poker Awards (BPA) have announced that Jorryt van Hoof will be a special guest star at the award ceremony due to take place on Mon, 23 Feb 2015.
The Dutchman – who finished third at the 2014 World Series of Poker (WSOP) Main Event, for a $3.8m score – will guest star in a specially arranged pro-am poker tournament, scheduled to take place after the awards have been distributed to the fortunate few.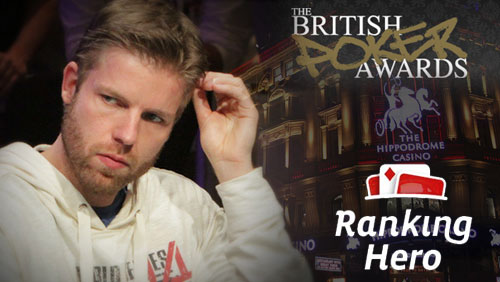 "With the awards just a few days away, we're hugely excited to welcome one of the standout poker players of 2014 for our fifth anniversary. Whoever knocks out Jorryt van Hoof from our pro-am tournament is set for a fantastic prize, so you won't want to miss out!" said Michael Caselli, Bluff Europe Editor-in-Chief.
The special 'Bounty Tournament' will be organized by Bluff Europe. Unibet will be the sponsor, and they will supply all bounty prizes, as well as a little something special for the winner.
We are unsure who will be joining Jorryt in the game, but can confirm that Liv Boeree, Victoria Coren Mitchell and Neil Channing will be attending the annual bash at the Hippodrome. Coren Mitchell is one of three players each nominated for three awards: Patrick Leonard and Simon Deadman are the other two.
If you want to get involved in the game then head over to www.hippodrome.com to register. Hurry though. The tournament will be capped at 50 entrants. Tickets for the awards show are also still available at the same site.
Ranking Hero Sponsoring the Bar
After eight months of hard work, a $1m investment, and a lot of learning, Ranking Hero – poker's social media home – will be letting their hair down by sponsoring the bar at the BPA.
"It is great to see our vision is now shared by many. Amateurs, pros and businessmen of our industry all agree on one thing: poker is reinventing itself. This is the most exciting time for those that are ready to take risks. We are. Let's make poker fun again." Says Ranking Hero co-founder Nicolas Levi.
Attendees will receive a free drink, courtesy of the Ranking Hero team, and you get the opportunity to sit down and chat with them before the event begins.
Nicolas Levi was on the front cover of last month's Bluff Europe magazine.