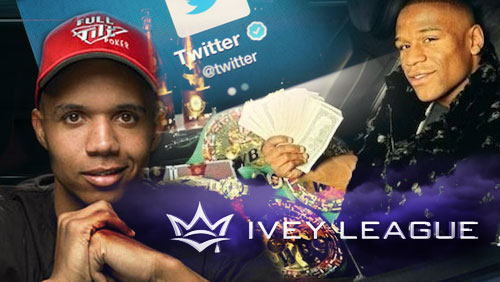 Floyd Mayweather sends out some Phil Ivey love after tweeting to his 5.58m followers to get online and learn to play poker at the Ivey League.
Imagine you own an online poker training site.
You want to attract some fish.
What do you do?
Well, if you're Phil Ivey. The undisputed king of poker. You call your friend Floyd "Money" Mayweather and ask him to send a tweet out to his 5.5 million followers.
5.5 million!
Learn how to play poker like @philivey #TMT http://t.co/WWVIFFMgGa

— Floyd Mayweather (@FloydMayweather) February 15, 2015
The butterfly effect saw the invite retweeted 1,174 times, and who knows how many more eyeballs were diverted to the home of the Ivey League coaches?
Genius.
It was a much needed boost, especially after last weeks debacle when MergerNetwork.com, posted a listing suggesting that Ivey was either selling IveyPoker for $20m, or was trying to raise $20m in seed money.
IveyPoker, CEO, Dan Fleyshman, was quick to swat that particular fly on the head.
"We're not interested in selling Ivey League whatsoever at this point, we're just getting started on the expansion into multiple business segments," Fleyshman told PokerNews. "Phil has self funded the mid-seven figures into the app and training site long before I stepped into help expand the business."
All-In Entertainment
Ivey and Mayweather's friendship shouldn't come as a complete shock. In March of last year, PokerNews revealed Ivey's role in All-In Entertainment—a boxing and entertainment firm representing sports and media interests, the promotion of worldwide entertainment events and orchestrating boxing events.
Ivey teamed up with Jeff Fried (President) and the NBA's Dallas Maverick's star Monta Ellis to start the company. They have since signed the likes of boxing sensations Dusty Hernandez Harrison and Andre Ward.
It's not the first time that a top boxer has been linked with a poker player recently. A few weeks back Justin "BoostedJ" Smith went to Instagram to tell a tale of a time he once bluffed Manny Pacquiao. Talk of a Mayweather v Pacquiao fight has been ongoing for years now, but the sporting world is currently lit up with a potential deal, after the pair exchanged numbers during an NBA game in January.
"I'm hopeful we can make the fight happen," Mayweather told the BBC.