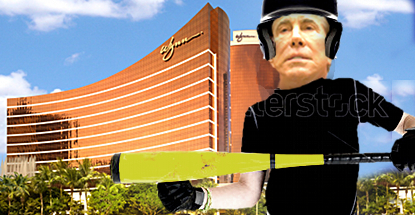 Casino operator Wynn Resorts saw revenue fall in both Q4 and FY 2014 as the record downturn in Macau took a big bite out of business. For the three months ending Dec. 31, revenue fell 25% to $1.38b, adjusted earnings fell 39.3% to $352.5m and net income fell by half to $109.3m. Revenue at Wynn's operations in Macau fell 32% while Las Vegas properties fell a comparatively mild 5.8%.
For the year as a whole, revenue fell 3.3% to $5.43b and earnings fell 2.1% to $1.77b. Wynn Macau earnings fell 5% to $1.26b while Las Vegas properties reported earnings up 5.9% to a record $515.2m.
Wynn Macau's VIP turnover fell 39.9% in Q4 while VIP win rate slipped 0.12 points to 2.8%. Wynn decreased its VIP table ranks to 244 from 273 in the same period the previous year due to renovations on its casino floor, a process Wynn expects to complete before the Lunar New Year celebrations kick in.
Wynn Macau's mass market revenue fell 15% to $249m in Q4, due to a 8.3% decline in mass market table drop to $634.4m and a win rate described as "the lowest hold rate since the third quarter of 2013." Slots handle fell 19.5% to $1.1b and win fell 20.9%. Occupancy rate rose 1.9 points to 98.6% and non-gaming revenue fell 1..6% to $95.9m.
In Las Vegas, gaming revenue was down 15.5% to $171m. Table game turnover fell 11.8% while slots handle rose 5.2%. Room revenue rose 6.3% to $95.5m and occupancy rose 1.3 points to 82.1%. Food and beverage revenue was up 5.3% to $103.3m and entertainment, retail and other revenue was flat at $57.4m.
STEVE WYNN SAYS CHINA'S RICH 'DESTABILIZED' BY CORRUPTION CRACKDOWN
Speaking on the earnings call, Wynn boss Steve Wynn said he wasn't threatened by two new projects announced for Las Vegas by Crown Resorts and Genting. Steve noted the proximity of those proposed developments to Wynn properties and said he'd rather see shiny new resorts there than empty lots. Wynn believes that the two new resorts would ultimately enlarge the Vegas pie and potentially add as much as $50m to Wynn's bottom line each year.
In Macau, Steve also said he was "insecure about the short-term future of the way things roll out" but he had no such qualms about the long-term viability of Macau as an international resort destination. "Aspirationally, all folks are the same. When they go on vacation, they want to live bigger and better than they can in their normal, disciplined lives … Wynn Palace is a gilt-edged invitation to that party."
Work on the new Wynn Palace in Macau hit some snags and is now targeted for opening in H1 2016 rather than for the lunar new year. Steve says Macau's demographic shift from VIP to mass hasn't changed the property's target market: "We're after everybody. That's been the story for 40-odd years."
Steve said Wynn Palace was well positioned to deal with the inevitable extension of Macau's smoking ban to include VIP areas. Steve noted that the facility was bristling with terraces, which allowed gamblers to get up from their table, duck outside for a hit of nicotine and return to the table without much fuss. Steve said that wasn't the intention behind the terrace concept, but "we got a windfall."
Steve said Wynn had "eliminated" its relationships with "weaker junket operators" and reduced its junket ties "to nine operators from 12 or 13" because the company is "very conservative about credit" and thus wants to do business "only with the most conservative counterparts." Wynn saw "safety and security by dealing with only the strongest leaders financially," singling out Suncity and Guangdong (Neptune), which were recently handed responsibility for Wynn's two new VIP rooms.
As for Beijing's ongoing crackdown on corruption that has been credited for most of Macau's recent downturn, Steve said "people with money are destabilized at the moment in China." People across China are confused over "what is expected of them" and this has led to a "retrenchment of spending instincts."
Steve then dusted off his philosopher's cap/batter's helmet, observing that "the business of business is not about home runs. It's about bunts and singles. Consistency is probably the most important word in politics, business and human relations. Consistency is the most important thing to the future of Macau. Inconsistency is destabilizing and frightening and it creates all that uncertainty. If the only constant is change and uncertainty, then how agile is the company financially, in terms of human resources? Flexibility, agility is everything to survival in the modern world."