Lee Davy takes a rapid-fire look at poker's most interesting tales of the week including a decision by the World Series of Poker to drop their $10m first place guarantee, in their Main Event, and news of a monstrous win for Todd Brunson.
Two news stories have hogged the headlines more than most, this week, and they both involve the life-changing sum of $10m bucks.
In 2014, Martin Jacobson became the World Series of Poker (WSOP) Main Event champion, at the same time netting himself a personal fortunate of $10m. Now that's what I call life-changing money. But let's imagine for a moment that the young Swede only won $8m. Do you think he would look a little sour? Do you think $8m is still life changing?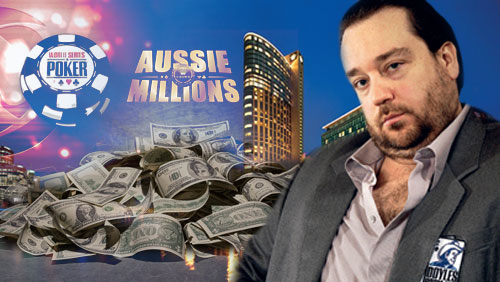 I do, and so do a lot of other people; as social media streams, and poker forums lit up like Blackpool illuminations when the WSOP chieftains proudly told the world, that they intended to once again guarantee a $10m first prize in the greatest poker tournament in the world.
Fortunately, for the poker community, the WSOP has a set of ears. They listened to the feedback, digested the information, and spat out a new headline.
"1,000 players to get paid, the largest widespread payout in the WSOP's 46-year history!"
The social media streams went wild, the poker forums went crazy, and balance was restored in the poker community – at least for another week.
Andy Beal v Todd Brunson
Fred West's offspring won't thank me for suggesting that there is something in the genes when it comes to the abilities and traits that the children seem to inherent from their parents.
It certainly seems to be the case for Doyle and Todd Brunson.
Whilst the whole world was debating the difference between $8m and $10m, Todd Brunson found himself in the unenviable position of being able to stare at a tower of chips worth the larger of the two amounts.
An excited Kyle Loman spotted Todd Brunson playing $50k/$100k Heads-Up Limit Hold'em with the American billionaire Andy Beal, in Bobby's Room. He pulled up a chair outside the greenhouse and continued to pump Twitter with a blow-by-blow account of the battle.
7m v 3m to Todd, 5.5m v 4.4m to Todd, 8m v 2m to Todd, 6.1m v 3.9m to Todd, 8.5m v 1.5m to Todd – and then news that Brunson had felted Beal for a full $5m profit.
A victory of Cepheus proportions.
Pacquiao Getting Bluffed
Andy Beal isn't the only recreational poker player who can wipe his ass with a $100 bill. Manny Pacquiao is well known for his excursions to The Commerce casino in Los Angeles, and this week we were privy to an insight into his poker life courtesy of Justin 'Boosted J' Smith.
Smith, fresh from his unlawful Internet sports gambling run-in with authorities, took to Instagram to tell a tale where he managed to land a $100k sucker punch to Pacquiao during a private game.
Boosted J wrote on Instagram that he bluffed the boxing legend for $100k on the river. He was holding absolute air, when Pacquiao folded pocket aces, face-up, for the over pair to the board.
"He started to beg me to show him my hand." Wrote Smith.
At this point my hand would have gone into the muck quicker than Beal's goes into his wallet during a heads-up game against Todd Brunson. Not Smith though; this lad is made of sterner stuff. He promptly showed the bluff, and then got to his feet to square off against the oncoming, fist-clenched killing machine.
Did Pacquiao knock him out?
Nah…
He gave him a hug instead.
Full Tilt False Call in New Jersey
Pacquiao didn't take Boosted J's head off his shoulders, but I reckon that's exactly what happened within the offices of Full Tilt this week, after someone, or something, led to a pop-up appearing on New Jersey residents mobile app, informing him that real money gaming was available in the state of New Jersey.
The news broke via an excited New Jersey resident named Dennis Lopez, who subsequently took a snapshot of the pop-up and sent it to all and sundry. He later failed to gain access to the real money version of the game because it didn't really exist. It was a balls up – pure and simple – and Eric Hollreiser acknowledged this. A man who was the Director of Corporate Communications for PokerStars until this sorry episode introduced "and Full Tilt" into his job title.
Hollreiser sent out a public apology, stating that the pop-up was a result of a technical bug; now resolved, and that talks with New Jersey officials regarding the eventual arrival of PokerStars and Full Tilt are still developing.
The Action Down Under
When it comes to action there is no better place to lock your eyes that Australia. The 2015 Aussie Millions is in full swing and here is a quick fire update of what's been going on during the past week.
Mikal Blomlie has now made two final table appearances, and bagged one title, after winning a NLHE/PLO Rotation event; Nam Le won the Tournament of Champions despite never being a champion in his life; Angelina Rich became the first female to win a gold ring at this series with victory in the Terminator Event; Michael Soyza won the Accumulator event, and Jai Kemp won the Bounty event.
There was also time to induct Van Marcus into the Australian Poker Hall of Fame, and give a big pat on the back to the Australian youngster James Obst. The Poker Hall of Fame committee feeling that it would be a nice gesture to recognize the youngster for his achievements in the game.