Eric Hollreiser, Head of Corporate Communications, for PokerStars and Full Tilt, has issued a statement apologizing to New Jersey online poker players who were led to believe real-money gaming was available at Full Tilt after a bug produced a statement to that effect on their mobile app.
Eric Hollreiser, Head of Corporate Communications for both PokerStars and Full Tilt, has issued a statement apologizing for the impromptu case of premature Full Tilt elation that placed New Jersey online poker players in a ditzy last week.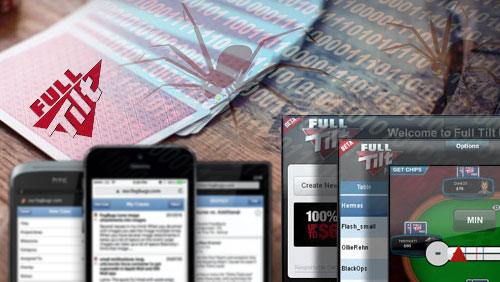 Excitement levels hit Megadeath type decibel levels after a poker player named Dennis Lopez logged on to Full Tilt's free-play dot-net site, on his mobile device, to be greeted by a message from the online gambling giant welcoming him to a version of the game: 'fully licensed by the New Jersey Division of Gaming Enforcement, offering real-money gameplay on a fully regulated online gaming platform.'
For the sake of clarity, I feel it's only fair to point out that the news story here, isn't the fact that people do actually play free-play online poker but that Full Tilt were informing players that they were legal and live when they weren't.
An excited Lopez wasn't able to download the requisite software but that didn't stop a screenshot of his mobile phone, resplendent with message, being sent to all and sundry in the online poker world.
Step forward, Mr. Hollreiser, to set the record straight.
In e-mail received from Hollreiser the blame for the slip was laid squarely as the feet of a bug that was fed up at being snug in its particular rug.
"Unfortunately, a bug in an update to the Full Tilt play-money poker app inadvertently included a pop-up window alerting players in New Jersey that a licensed real money offering is available. As a result of the bug, a very small number of people were exposed to this pop-up before we resolved the issue," wrote Hollreiser.
The Comms chief went to on to explain that "it was only a message alert" and at no time was the real-money app ever available for anyone to download. He apologized to anybody duly affected by the incident.
"The bug was identified and fixed within hours of being alerted to the issue." Wrote Hollreiser.
The e-mail ended with Hollreiser making doubly sure that everyone was aware that there was no agreement for Full Tilt to host real money games in New Jersey, but they were still in dialogue with State officials.
Comments