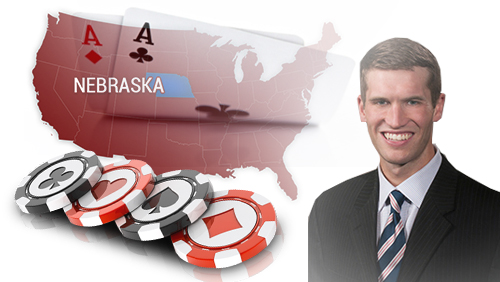 Nebraskan Senator, Tyson Larson, is hoping to generate more tax revenue by proving to the lawmakers that Draw and Hold'em poker are games of skill, and can therefore circumvent the aged-old gambling laws in the state.
The largest city in Nebraska is called Omaha, and yet you won't find a legal form of the game, with the same name, played anywhere in the state. In fact, you won't find much gambling at all in the state with the exception of some forms of bingo, lottery and pari-mutuel horse racing.
State Senator Tyson Larson plans to change all that. According to the Government and Political section of the Journal Star, the youngest man to ever become a member of the Nebraskan senate, is set to introduce a bill that will legalize two-forms of poker: Draw and Hold'em.
Larson's argument will hinge on the premise that the above-mentioned games are ones of skill, and not chance, thus circumventing the decrepit legal jargon currently occupying space in the tea stained official documents.
"You can be a professional poker player; you cannot be a professional coin flipper," Larson told the Journal Star. "You can lose a poker game on purpose; you can't lose a coin flip on purpose. You can have the worst hand in poker but be the best player. The math is there; the statistics are there," he said. "Poker is a game of skill; it is not a game of chance."
If Larson wants any help, he can turn to New York. In 2012, New York Federal Judge, Jack Weinstein ruled that poker was a game 'predominated by skill', during the case of Lawrence Dicristina, who was being charged with the crime of operating an illegal gambling business.
Larson is not only backing a bill to legalize some forms of poker. The young liberal also wants to see bars open 24/7 and the freedom for cigar chomping Nebraskan's to puff until their hearts pack up in cigar shops throughout the state.
The usual cherries have surfaced regarding the legalization of poker, with  the generated cash being used to help property tax relief, local governments, and the fight against compulsive gambling. There is a proposed 10% rake on tournament fees, and an uncapped 5% rake on all cash game pots.
The bill is scheduled to be discussed on Tuesday.