I, CALVIN AYRE, MAD PROPHET OF THE INTERWEBS, PREDICT THAT OVER THE NEXT 12 MONTHS…

– Amaya Gaming's David Baazov will pay $1b to acquire a federally recognized Indian tribe in California and then legally change his name to Dances With Covered Assets.
– US Homeland Security will arrest Bwin.party CEO Norbert Teufelberger (pictured right) for laundering money on behalf of Islamic terrorists. Security footage from a New Jersey strip club will show an unsteady Teufelberger tucking one too many dollar bills into the G-string of a dancer named Isis.
– Antigua's Prime Minister Gaston Browne will resolve his country's longstanding World Trade Organization dispute with the United States by insisting that he's actually Fidel Castro's other half-brother.
– Caesars Entertainment CEO Gary Loveman will become a dark horse candidate for the Republican Party's 2016 presidential nomination based on his ability to make massive deficits seemingly vanish into thin air.
– Ladbrokes and Bwin.party will merge into a single entity called BrokeParty. In the ensuing confusion, they will accidentally lay off both companies' trading teams, which they won't realize until Euro 2016 is already over.
– NFL commissioner Roger Goodell will be caught on video getting punched in the head by Ray Rice's wife. While being treated at the hospital, Goodell will insist that he doesn't have a concussion, but even if he does, it's impossible to prove what caused it.
– Sheldon Adelson will reach a truce with his Iranian computer hackers by hiring them to install malware on PokerStars that enables him to win the World Championship of Online Poker, thereby demonstrating the inherent insecurity of online gambling.
– Phil Ivey will be caught edge-sorting at a Macau casino and irate junket operators will force Ivey to pay off his debt competing in the Asian underground pit-fighting circuit. Ivey's disappearance will be used as the latest excuse for delays in launching IveyPoker.com.
BUT SERIOUSLY, FOLKS…
I expect 2015 to be an uneventful year, with most existing trends continuing along their current path. That said, there are a few issues that bear watching.
BABY I'M AMAYAZED
The Amayization of PokerStars will continue unabated in 2015. Stars' expansion into other verticals like casino and sports betting will allow it to claim more market share in European regulated markets where it already dominates the competition. But other, less positive changes are in the pipeline. If Amaya hopes to get Stars licensed in the United States' regulated markets, it will have to shed its operations in other markets in which it's not officially welcome.
Amaya appears convinced that Stars has an inside track to become the first independent firm to receive a Canadian online gambling license from Quebec's provincial lottery monopoly. But I think it far more likely that Amaya will be forced to cut off Stars' Canadian customers, at least, in the short term.
The plan Loto-Quebec appears to have sketched out for licensing Stars would require the consent of all the other provincial gambling monopolies. Ontario, which is launching its own online gambling site early in 2015, might wish to see how the site performs on its own merits before inviting Stars to the party. At the very least, getting Stars licensed in Canada would require federal politicians to amend Canada's Criminal Code and Canadian politicians don't move any faster than American ones.
Amaya will probably also have to say goodbye to its sizable revenues from the Russian market. The country had been making noise about officially regulating its poker market but new punitive gambling legislation passed late in the year has cast some doubt on those plans. Russia's market is already more 'black' than 'grey' and public markets have little tolerance for black market dealings.
Ditto for Stars' officially unwelcome presence in Australia. The federal government is once again making noise about IP- and/or payment-blocking of international gambling sites and Amaya will find it increasingly difficult to maintain the facade that there's some ambiguity about its down under dealings.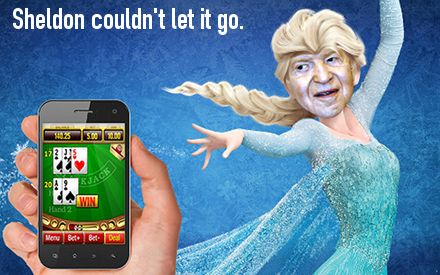 US REGULATORY LANDSCAPE TO REMAIN FROZEN
No new US states will approve online gambling legislation in 2015. The ridiculous revenue projections for New Jersey's regulated market were never going to be realized, but the perceived shortfall will nonetheless spook uninformed legislators in other states who were already unconvinced of online gambling's potential benefits.
Pennsylvania and California will make a good show of passing legislation but Sheldon Adelson will use his local influence to stall passage in Pennsylvania and California's squabbling stakeholders appear no closer to consensus than ever. They may get there in 2016, but no sooner.
Of the three US regulated markets, only New Jersey's will be worth watching in 2015, primarily for (a) the question of if/when Stars will be allowed in, and (b) what effect Stars' entry will have on the market. I imagine Stars will eventually get a favorable nod and the ensuing spike in Amaya's shares should signal a perfect opportunity for shareholders to sell, since it will later come out that the license came with the proviso that Amaya withdraw Stars from its remaining grey markets.
Stars will provide a short-lived boost to New Jersey's market, but unless the state suddenly welcomes 10m new immigrants, the slightly enlarged pie will simply be divided up by one more operator, meaning even smaller returns for everyone.
There will also be no federal online gambling bill – pro or con – passed in 2015. There's zero appetite to approve a federal expansion of online gambling, whether poker-only or the full suite of options. By the same token, the Restore America's Wire Act might get a committee hearing or two but it's too widely perceived as Adelson's white whale, i.e. the irrational obsession of an old technophobe who views even television remote controls with suspicion.
Regardless of Adelson's history of bankrolling GOP election campaigns, backing RAWA would require Republicans to reject one of the core tenets of their faith, i.e. state's rights. Rolling back the clock on the states' regulated online markets would also be a very messy, very public affair that would result in court challenges and cries for the feds to provide the financial compensation that the online gambling companies would most certainly demand.
UK MARKET POINT OF CONSOLIDATION
It's going to be a lean year for UK-facing companies as they adapt to the new 15% point of consumption tax. Even with the surge in betting via this summer's FIFA World Cup, UK-listed companies like Ladbrokes and Bwin.party were posting underwhelming profit numbers. With no major sporting event this summer, an extra 15% coming off their UK online revenue and the scheduled tax increase on retail betting machines, things could get downright fugly.
The increased taxes will be all the more frustrating as UK-licensed operators find themselves competing against international companies who never bothered to file for a new UK Gambling Commission license. As most of the continental dot-country markets have discovered, playing derivative-domain whack-a-mole is like treading water: it's exhausting and the second you stop, you lose.
As margins shrink, consolidation will be the order of the day. Minnows will be swallowed by bigger fish while underperforming leviathans like Ladbrokes will be hanging out 'new management' signs. Bwin.party will most assuredly not finish out 2015 in the same form as it ended 2014. That could mean new ownership or a restructuring into one division to focus on regulated markets and another to focus on all the grey markets the company exited via their ill-advised 'volume to value' (aka 'profit to deficit') strategy.
While all this carnage is going on, Bet365 will continue to chug away like the well-oiled revenue- and profit-generating machine it is. Seriously, if the Queen ever does abdicate, I'd like to see Denise Coates' face replace Her Nibs on the UK's currency.
On the European continent, expect one or two more ring-fenced dot-country markets to open up with predictable patterns: high taxes and constrictive regulations, creating one or two winners and a whole bunch of unprofitable also-rans.
ASIA
Macau's much publicized problems will likely continue throughout 2015 because Beijing appears determined to send a message to government officials that the days of gambling on the public tit are over. This will have a spillover effect on all Asian gaming jurisdictions that rely on a steady stream of Chinese VIPs to keep their baccarat tables humming. In the Philippines, the Solaire casino is bracing for its first real local competition from City of Dreams Manila, but both properties are likely to perform below expectations until Beijing takes its foot off junket operators' necks.
The Philippines will also deal with challenges to its status as the home base for Asian-facing online gambling companies. Last year, I predicted something similar based on the nuisance raids on companies who base their business process outsourcing services in Manila. Those raids have increased over the past year, causing hiccups for operators like William Hill and I know that other operators have been prodding government reps in other countries to offer a more stable alternative.
I feel some serious potential for mobile wagering opportunities in a few big markets in Asia (and Africa) but the real boost is likely to be still a year or more down the road. Opportunities in this area are all about the ability to ensure good payment channels.
LATIN AMERICA
While stasis grips America's online gambling scene, 2015 will see increased activity south of the US border. After an interminable wait, Mexico is due to revamp its online gambling market and other countries will be watching to see how its market develops. Unfortunately, the South American market is likely to develop along the lines of Europe, with preference given to local monopolies and crippling tax rates (at least, initially) in markets that do welcome international operators.
POKER
Poker is going to continue to decline. It's not about to disappear anytime soon, but anyone pining for a return to last decade's heyday needs to get working on their time machine. You're going to see more and more operators conclude that it's just not worth it and fold their poker tents.
This reduction in the number of operators and PokerStars' increased focus on diversification into other verticals will create opportunities for the industry's more innovative companies to grab market share. 888 Holdings, which has managed to grow its poker offering while other operators' sites have languished, will cement its position as the global number-two operator.
THAT'S ALL, FOLKS
That's about it. Like I said, apart from the changes I noted above, 2015 is likely to finish much the same as it began. That said, the most predictable aspect of this business is its unpredictability, so keep a firm hand on your drink lest some major hiccup cause unnecessary spillage.
Happy new year, everybody!