Michael Garcia's departure as FIFA investigator shows the messed up state of football's governing body
Michael F. Garcia's abrupt resignation as FIFA's independent ethics investigator shouldn't come as a surprise to those who knew that his task of fixing the abominable mess that is football's governing body was beyond even his own reach. He still did his part since assuming the position in 2012, but all the work he put in the creation of a 430-page report on alleged corruption issues involving the bidding process for the World Cup went up in flames when the same people who put him in this position shrugged off the investigation they asked him to do.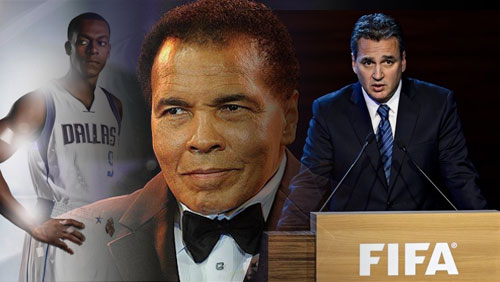 It probably didn't help Garcia's cause when his report landed at one simple conclusion. The alleged corruption within FIFA is ingrained deep in the fabric of the organization and no amount of intervention will change its values unless sweeping changes are made in the hierarchy of the sport's governing body. In his statement announcing his resignation, Garcia lamented the "lack of leadership" within FIFA and while he didn't specifically identify anybody, it was clear that he was referencing FIFA president Sepp Blatter, who has come under fire more times in his term than George H. W. Bush during his time as US president.
Garcia's criticism of FIFA didn't just end at the top. In the middle of his investigation, Garcia lamented on more than a few occasions the lack of transparency the organization gave him when it came time to securing information that would help him in his report. He was prevented from talking to witnesses and was, at various points during his term, being targeted for removal by the same people who gave him their blessing to launch the investigation.
The circumstances surrounding Garcia's sudden resignation points to a FIFA system that will always be tied to all the allegations thrown its way unless somebody steps up and puts a kibosh on the madness. Michael Garcia couldn't get it done, even if you can't put the blame of his failure squarely on his shoulders.
How could you when the organization that bought him aboard in the first place was the first one to throw him under the bus when his aggressiveness became a little too much for them to bear.
Oh, FIFA.
Rondo trade shakes up the West
As if the NBA's Eastern Conference couldn't suck any worse, one of its most mercurial and polarizing stars just got shipped to a Western Conference powerhouse in exchange for three bench players, a future draft pick, a bag of peanuts, and DVDs of all five seasons of Friday Night Lights. Ok, I only made two of those up, but even if the Boston Celtics got the full haul, it still wouldn't amount to anymore than 40 cents to the dollar compared to what they gave up.
But the Celtics are irrelevant so this isn't really about them sending Rondo to Dallas as it is the Mavericks now having a point guard that instantly turns them into a real contender. Rondo's debut with Dallas on Saturday – a 99-93 victory against the San Antonio Spurs – offered a glimpse of what might lie ahead for Dallas and if you're a team that's competing against the Mavericks in a deliriously loaded Western Conference, you suddenly don't want any part of a Rondo-Monta Ellis backcourt that can take turns running the offense and set up guys like Chandler Parsons on the outside and Tyson Chandler near the paint for easy buckets. Oh, and the team still has this dude named Dirk Nowitzki. You've probably heard of him, too.
If any of you put money on Dallas to win the NBA title at 20/1 before the season started, you're going to love getting that high of a number, especially now that Dallas' betting price has been slashed down to 12/1 by a lot of sportsbooks. That's what happens when you acquire one of best pure point guards in the league without giving up anybody worth mentioning.
The Greatest rushed to hospital because of pneumonia, should be OK
The sports world got a momentary scare when boxing great Muhammad Ali, considered by many as the most influential athlete in history, was hospitalized over the weekend. A spokesman for the Greatest told multiple media outlets that the 72-year-old sports icon was admitted in the hospital after suffering from a mild case of pneumonia.
Fortunately, the symptom was caught early and there's plenty of reason to suggest that he should be out of the hospital "pretty quickly."
That's probably the best news to come out of the world of sports in the past few days. Ali's spokesman, Bob Gunnell also issued a statement on behalf of the champ, explaining that his prognosis is good and he is expected to have a "short hospital stay." Gunnell declined to identify which hospital Ali was admitted to and offered no other details at the request for privacy issued by the boxer's family
With another eventful week set to close, it's only fitting that we end it with some good news. The Greatest should be ok, so all those who held their breaths when news first broke about his hospitalization can now breathe a little easier.