This is a guest contribution by Robbie Davies. If you would like to submit a contribution please contact Bill Beatty for submission details. Thank you.
I enjoy drawing parallels with the tech world and the gaming world. After all, it is a strong tech offering that drives most companies in the gaming space.
The tech industry is experiencing some exciting times right about now. Innovation is driving investment in start-ups that provide tools which tie in online experience to parts of our everyday lives. Think about Uber, Shopify or Hootsuite for example. These companies are leading a powerful growth train in the way businesses do things online with their tech. This leads to good practices we can all learn from.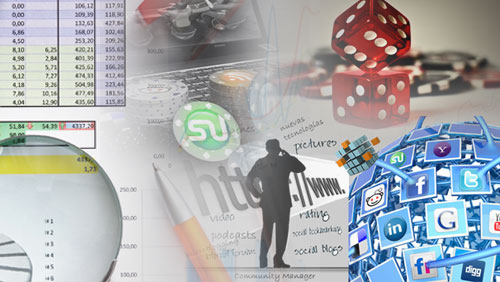 There is one area in tech, which I think is way undervalued outside of tech. This is the area called 'Community Management.' For this article, I researched many different gaming companies around the globe and studied their efforts at community management. The beneficial purpose of this article is to explain the framework of what a good community manager should be working on and why companies should invest in one.
Pro Tip: be positive! Positivity all the time.
Overview 
Community management has many different meanings for different people. I am a firm believer that all companies, especially ones with online offerings, need to nurture a strong community manager and pay that person well.
Most operators in gaming make some sort of effort with community management. Many of them call it 'social media' which is ok as social media is the backbone of good community management.
Personally, I look at 'social media' as a less refined version of what a good community manager should be doing. Social media becomes the meat and potatoes wherein community management is the tartar and kale. It is elevated and healthy.
Pro Tip: Online, people need to embed social into everything they do, not just use it as an add on called 'social media management'
When I was looking around these companies, I noticed that in gaming, the big companies do an absolutely cracking job of community management. From an external perspective, I can see they post important updates, they provide content, they respond to problems and they are brand evangelists. They facilitate, host and moderate discussions. They use metric tools and grow with the times. I really like what I see.
On the flipside, I saw there are also companies that do little to none of this. This does surprise me as the nature of these businesses is online. It is collectives of static customers surrounded by different tools to connect with each other. I would think it should be a natural to try to connect and engage these audiences.  Maybe these companies have tried and it failed. Projects fail. Maybe they can't demystify the ever-growing technology and social media best practices. Maybe they spent money in the past on staff but didn't get results. I am not going to call anyone out, but if this does resonate, do some introspection and change. We all want growth in this industry.
Pro Tip: Treat community managers in the highest esteem. I would even recommend that companies with large communities bring a 'Community Manager' to the C-suite.
Different Verticals = Different Approaches
Community management will naturally vary across different verticals but the overall idea is the same.
With sports, I see lots of targeted campaigns in-game to people all online using second screen while watching a game. Bingo it is also very important to have good hosts and analysts that understand the customer and help the customer succeed.
Slots and Casino are different and more solitary. Managing communities here is about trust, discretion and powerful customer success mechanisms. Helping people avoid scams and gaming responsibly.
Poker is vastly different than the aforementioned verticals. People at the tables can talk to each other, can watch each other and can even record what each other are doing (well, not on Bodog, with the anonymous tables). It is a social game at its core.
Poker needs to have a strong management voice in the community and I would advise all companies that touch poker to respect that.
Plenty of tech innovation has happened in poker to answer to this social need. Webcams at tables for example, or all the poker forums that have long existed. The list goes on and on. One initiative that has really impressed me is how PokerStars has flown members of the community out to the Isle of Man to give them a voice. This is the community leadership that poker should try to encompass.
The Work – 10 Focuses
Recently I was consulting on a really nifty up and coming tech service. They needed a strong community manager and asked me what to do. In a nutshell the list below is a high level look at where I told them how to get their community manager to focus.
As a baseline, there are three major areas of scope for a community manager. There are internal roles within the company, external roles with public stakeholders and bridge roles which bring the internal and external together.
I have put together 10 focuses in a form of check list to cover internal, external and bridge.
Pro Tip: Empathy. Get to know empathy and exhibit empathy.
Planned Communication. Writing, Reading and Expressing.
Try to play that key intermediary between community and company.
Do not forget that even though it is online, it is still people talking to people.
I prefer more personalized communication, not just a voice hiding behind a computer.
Don't be scared to make mistakes.
Use well timed communication based on world events.
Content on Brain.
That old cliché again, content is king. Promote Interesting and relevant content 24/7.
A community manager has to be an excellent writer, active listener and curator.
They must have excellent judgment and a sense of humour.
They must keep finger on the pulse of what is trending and what isn't.
Customer Support.
Handle support with upmost professionalism.
Solve problems.
When queries hit your queues in any social media tool, always respond to them promptly with a good resolution.
Have bullet proof patience.
Brand Expert and Evangelist.
You want to be a walking and talking ball of enthusiasm for the brand.
Be a detail oriented historian and coach.
Be the role model for others internally and externally.
Facilitate, Host and Moderate.
Try to facilitate engagement.
Set the boundaries for discussion.
Drive conversations.
Share triumphs and learn from failures.
Metrics – Analytics.
This is my favorite. It is behind the scenes but should be a powerful voice in your workflow.
Make sure to set up relevant KPIs and track everything.
There are great tools available. Hootsuite or socialmention are great companies to track these metrics.
Create actionable insights and test them out.
Avoid analysis paralysis.
Community Maturation and Recruitment.
Track changes to the community and make course adjustments as needed in the community.
Bring the biggest customer influencers into the spotlight.
Administration.
Be the boss and take ownership of all parts.
Setup, track and stick to a workflow.
Run the day to day.
Create a dashboard to impress your boss.
Be the Customer Internally.
Practice sound change management protocols to not get stuck in a rut.
There are some good tools out there like 7geese. These are called social performance management. Use them.
Be the customer success driver for the community to your internal stakeholders.
Tech.
Know your tech offering inside out.
Help customers and leads use the tech interfaces (website, poker-lobby, etc.)
In Closing
I want to see growth in this industry. I want to see companies recover from the tough times and move ahead using all the tools that are available. If one can push their social media to become a catalyst for growth by fostering and managing a community, we will all be better off.
Any company that points their social media managers to this list and sees that they are covering all these bases should be applauded.
Everyone else should look at this and figure out a way to become more robust in how they manage their communities. There are plenty of lessons learned out there from some stellar tech companies on how they manage the folks that use their tech.
Step up and transcend social media, create a community manager workflow and stick to it. Create that dialogue with your customers, turn flat connections into meaningful relationships and watch your business improve.
Robbie brings over 10 years of online marketing and tech industry experience to the table and has mentored and led award winning teams of writers, IT professionals, marketing innovators and executives from around the world. He has been in various leadership positions for hundreds of websites. You can connect with Robbie Via LinkedIn and Twitter.