Social media and online gambling have a strange relationship. You have an industry that's was conceived through the internet and, by definition, any customers are already online. However the stigma attached to gambling means that while customers may be more than happy to spend a bit of time spinning reels or playing poker, they're aren't always as willing to tell their friends and family about it.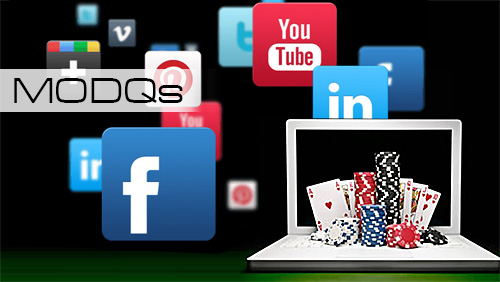 Media and Entertainment Consulting Network (MECN) undertook an analysis of social media in the online gambling sector as a part of their Online Gambling Quarterly report. It will be of little surprise to most that the companies which they found to be performing best across the main social media sites were Paddy Power and Pokerstars.
Described as 'social stars' the two companies have created incredibly strong brands in quite different ways. Since the demise of other poker operators Pokerstars have pretty much ruled the roost and have been the choice operator in recent years. Their success and the lack of serious competition has left them greatly sought after by the poker community making engagement not all that difficult.
On the other hand, while also having an extremely strong product offering Paddy Power have become known for their outlandish marketing stunts which have included ambushing pretty much any major sporting event or large news story. Their 'We hear you' TV campaign centredaround social media and their brand personality lends well to poking fun at current events and encouraging sharing.
It's an approach that has worked well for them as MECN's analysis found that the average number of likes for an iGaming operator was 212,574 while Paddy Power had received an impressive 1,180,684. Following behind them in this category were William Hill and Pokerstars.
When it came to engagement it was bet365 who were seen to succeeding the most with the percentage of people talking about them compared to the number of Likes on their page being 8.3%.  Away from Facebook Paddy Power remained the most popular with 252,000 Twitter followers compared the average of a little over 49,000.
MECN's analysis also showed that the popularity of iGaming social media accounts continues to increase at a rapid rate. The number of operator page Likes have increased by an average of 80% since the beginning of 2013 while Twitter followers have increased by 93%. These figures suggest that social media is increasingly important for the iGaming industry but is that the case for all areas of the industry?
For the purpose of this particular topic, bracketing online gambling as one whole entity doesn't actually tell the whole story. In order to do that you really have to break it down into verticals with sports betting, casino, poker, bingo and lottery being the ones that you could consider to be the primary areas of iGaming.
The obvious assumption is that sports betting is much more conducive to social media. Unfortunately MECN's analysis didn't reveal anything on this part as it focused more on quantitative analysis. Martin Oelbermann, director at MECN, added: "We did not realise any significant differences between operators that focused on different gaming verticals. We analysed mostly the big operators – most of them offering all verticals."
With sports and poker being spectator activities, bingo being considered more of an entertainment activity and lottery more socially acceptable, it really comes down to casinos that you might expect to struggle on social media fronts.
A quick scan of casino-lead brands reveals expected results. On Facebook 32Red Casino has 42,107 likes but a poor engagement percentage of 0.5% while 888casino has 41,200 likes and an engagement percentage of 0.6%. Others, such as Mr Green, PartyCasino and InterCasino all have less 6,000 likes or less.
This provides a sense of how tough it can be for casino operators to gain a solid following. On the subject of differences between verticals Oelbermann commented that "it seems that most posts are related to sports or betting".
Despite this he does believe that there aren't any reasons why gambling companies of any kind should have to take a separate approach on social media to companies from other industries. He adds: "Fans and customers active on Facebook appear to have no ethical problems with gambling."
It's hard to agree with this in the case of casinos, particularly when looking at the engagement rates. Even though the likes of 32Red and 888 have been able to garner significant followings they've struggled to get their users talking about them. Without reverting to the regular format of posting about sports, as some have done, it seems tough for pure gaming products to engage potential users.
One way past this problem is with humour. Given the perception of gambling it can do no harm to push the boundary with the type of content being pushed out to followers. The best example of this by far is with Betfair Poker's Twitter account. Having hired a team of comedy writers in 2011 the feed continues to not only draw in new followers but also to engage them.
It's work such as this and the several well followed and engaging sports betting accounts that show that social media can serve iGaming operators well. But with such a wealth of content being put in front of users every day brands really have to think about how they're going to stand out. As the evidence suggests, the opportunities are there but they aren't easy to take.
Comments