Internet celebrity and self-professed "King of Instagram" Dan Bilzerian has had a pretty eventful week. Days after getting banned from LIV club in Miami for allegedly kicking a woman in the face, Bilzerian took his hell-raising antics out west with reports that he was in the process of making bombs for his own personal use.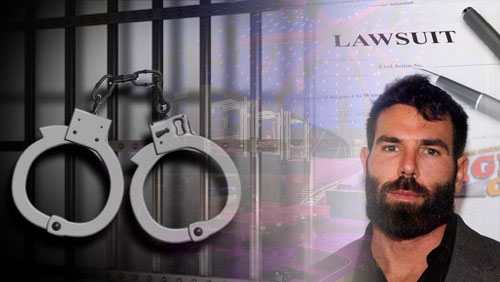 The only problem was Nevada law authorities had already sniffed out his scheme, which is why he was arrested and taken into custody while transferring through Customs at LAX late Tuesday.
According to TMZ, an arrest warrant was issued for Bilzerian in Clark County, Nevada after it was discovered that he was carrying ammonium, aluminum powder and ammonium nitrate mix. All three items are key ingredients in the making of TNT. ABC 7 in Los Angeles also reported that law enforcement authorities discovered Bilzerian's plans after receiving a call of an explosion in Clark County Desert on Nov. 4.
Bilzerian was initially held without bail but he has since been released from police custody late Wednesday.
Oh, speaking of that incident in Miami a few days back, the woman who was introduced to Bilzerian's boot has since filed a lawsuit against the Internet celebrity, calling him a "menacing trust fund recipient."
The woman, identified as Vanessa Castano, claims that Bilzerian's Bruce Lee impersonation on her  ended up with her bleeding on her face and eye. Castano's lawyer, Keith Davidson, filed the lawsuit. It's still unclear what Castano is seeking in her lawsuit but considering Bilzerian's wealth, it probably involves getting a lot of money.
Bilzerian's people debunked the allegations that he intentionally kicked Castano in the face, saying that he kicked her because he was trying to get another woman onstage, whatever that means.
In any case, Bilzerian's had a pretty rough week. Then again, it's only Thursday so it remains to be seen what other shenanigans the "King of Instagram" can cook up to get himself in the news again this week.
At the rate he's going, everything's on the table. He's already checked off "throw porn star off roof" and "run over BMW 7 Series with a tank" from his list so maybe he's got something planned to cap off his rather eventful week.