This is a guest contribution by laJuega.com's CEO Victor Espinosa. If you would like to submit a contribution please contact Bill Beatty for submission details. Thank you.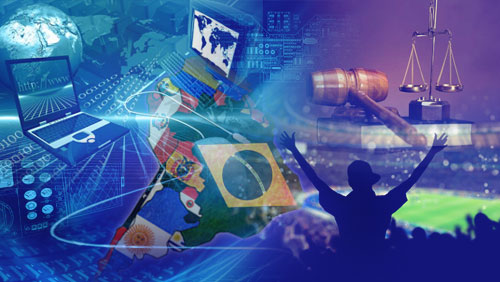 In South America, three forces are shaping the gaming environment: Emotional momentum of sporting fans, evolution of gaming legislation and technology adoption. The growth of gambling in Latin America is owing to changing preferences and massive access, transitioning from a push supply (e.g. physical) to a pull demand (e.g. digital). This article explains how these forces are related and how can gaming companies pool resources and benefit from it altogether.
Soccer has dominated South American culture ever since it arrived on the continent. Its creativity and talent resulted in worldwide domination by South American teams (nearly half of the 20 World Cup events since 1930) and two of the most relevant players in the history of the game; Pele and Maradona.
In psychology, there is a definition for something called the Law of Conservation of Emotional Momentum. This law states that "emotional events retain their power to elicit emotions indefinitely, unless counteracted by repetitive exposures that permit extinction or habituation, to the extent that these are possible." In the context of soccer history in the region, it means that the emotional state of people soccer fans of the region has been reinforced with the 2014 Soccer World Cup; the biggest sporting event of earth. This emotional state will grow as long as consumers are able to see good quality games and sporting content, which is favored by dynamic growth in internet access mentioned earlier.
Betting history reveals that suppliers and consumers are willing to provide government revenue in exchange for gambling opportunities. Governments are crucial for sustaining a viable gambling industry with regulation and legitimacy, which creates confidence and acceptance from consumers. With sustained economic growth of the main countries in Latin America, there is an expending trend in the governments of the region in terms of investments in technology and Internet access, creating the need of searching for new taxing sources. These facts create an opportunity for taxing digital gambling by expanding the tax base, rather than by raising tax rates to the current economic activities.
Although there are powerful forces encouraging governments to give excessive priority to protecting current gambling revenues. We know this from experience in laJuega.com, when we were doing due diligence to operate sports betting and lottery distribution in Colombia. In this country, gambling taxation is regressive and just benefits monopolies, creating high entry barriers to new competitors and concentrating income in few owners. This creates a non-competitive industry and illegal gambling as a consequence, since the current games and distribution channels does not satisfy the needs of the new generation of "on-demand" consumers.
Digital companies can take advantage of this huge opportunity, which can be achieved by pooling resources (economic and political) to influence and help Latin American governments in creating regulation that benefits the industry as a whole. Established physical companies can use their power to delay this from happening, but it is just a matter of time until digital betting channels become strong enough to fight back.
Comments