Delaware's igaming revenue in October has slumped to the lowest figure since the market opened for action in November 2013.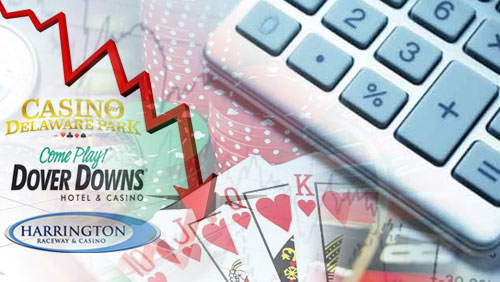 If you were to sit the Delaware online gambling market on the knee of Santa Claus they would ask for inter-state compacts. Partnerships cannot come soon enough as iGaming revenue for the state hit a low that has not been seen since the market opened for business on 8 Nov 2013.
IGaming revenue from Delaware Park, Dover Down and Harrington racinos rang in at $130,469, barely $19,000 more than the $111,387 it produced in the state's first-ever month.
It's the second consecutive month that iGaming revenue numbers have nose-dived, and they were $110,294 worse off than the all time high reached in April of this year. The state has earned less than $2m in revenue since the opening of the market.
Table games earned $46,130 (the lowest since Jan), poker earned $28,509 (second lowest total ever), and if it wasn't for the record breaking video lottery haul of $55,828 (the highest ever), it could have been a damn site worse.
Here is the breakdown by racino.
Delaware Park
Total revenue at Delaware Park was $75,050 (the lowest since Nov 2013); table games earned $35,329 (the lowest since Jan), poker earned $16,584 (the lowest since June), but there was a little light with video lottery sales bringing in $23,136 (the third highest on record).
Dover Downs
Total revenue at Dover Downs was $30,383 (the lowest since Nov 2013), table games earned revenue of $9,188 (lowest since Jan 2014), and poker earned $8,202 (lowest since June 2014). Video lottery revenue was up, with $12,991 recorded in the month.
Harrington
Despite the doom and gloom Harrington actually had a pretty good month. Total revenue was $25,034 (the highest since March 2014), video lottery revenue of $19,700 was the highest ever, but the barely negligible revenue earned from poker ($3,721), and table games ($1,611) was a pitiful sight to see.
Accounts also dried up with only 315 new accounts in the state (the lowest ever recorded). Delaware (136) and Harrington (113) both recorded their lowest ever numbers, in the new accounts department, and Dover Downs recorded their second lowest ever number with 113.