Sin Melin on Her Time With Full Tilt Poker Audio
Lee Davy sits down with the former UKIPT Ambassador and Full Tilt Poker sponsored pro, Sin Melin, to talk about her start in the game, and her relationship with the once mighty online poker giant.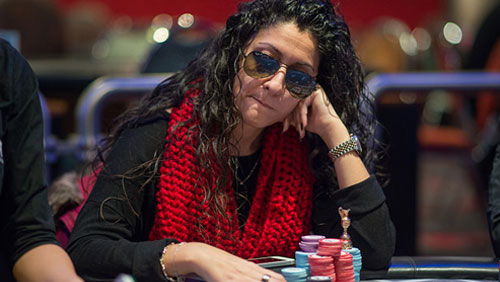 The first time I heard the name Sin Melin was when she was signed by Full Tilt Poker (FTP) to be one of the faces of the United Kingdom & Ireland Poker Tour (UKIPT).
I didn't get it.
Aren't FTP supposed to sign the stars of the game?
An instant reaction proving how out of touch I was with grassroots poker in the UK. She is a star. She is an inspiration. She is proof that in poker dreams can come true. Plucked out of the UK card room and thrust into the pages of The Independent and The Sun no less.
The first time I see her in the flesh she is cracking skulls at the table. She is the chip leader in the £3,000 buy-in Main Event at the World Poker Tour (WPT) UK event in Dusk till Dawn (DTD). A stack that would push her into the money.
What have you been up too lately?
"I haven't played a lot actually. I have had a break in the past month. I played the WPT500 last week and it's the first time I've played for a month. One of my pals past away so I took a break and have just been partying to be honest."
Are you still sponsored by Full Tilt?
"We all officially ended last week. I received a phone call from them. Deep down I knew when the UKIPT season finished it would end. Then when Gus and Viktor left I thought it could be a good or a bad thing. They had already let all of the ambassadors go, and kept the UK ones on, but it wasn't meant to be.
"When I started playing poker, 10-years ago, I always dreamed of becoming a pro. I played everything around the UK, and this year I played my first Main Event in Vegas. I was fortunate to get signed by Full Tilt and I loved it."
What was it like working for Full Tilt?
"It was perfect. I did things with them I would never have done had I not been with them. I visited Canada; got to meet David Haye. It was a wonderful experience. It seems they have taken a different direction. It's a shame for me, but I'm cool with it."
It was a good relationship for your personal brand.
"I had an interview with The Independent, and The Sun. I actually taught a journalist from The Sun how to play. It was hard to explain how to play poker to someone who doesn't know anything about the game. I got a lot of exposure through my deal with Full Tilt. When you wear a patch at the table it changes things."
How did you get signed?
"A few of us were out in London one night. I came home and was going through my e mails, slightly drunk, and I saw an e-mail from Full Tilt asking if I was interested in this, that and the other… I thought someone was pulling my leg.
"I replied, and the next day I woke up after 4hrs sleep and I was buzzing. I stayed by the phone, all day, and I got the call at 7pm. They asked me what I did? What stakes and games I played? I wasn't an online player before Full Tilt called me. It was completely live for me.
"I sent them a couple of videos. One of them was of this story about playing this game with this guy. I played a big hand with 23o against this guy who had kings. 23o is my favorite hand. Matt Adams and I were going to war with this guy in the big blind. I was like whatever you do I will do. Matt opens and I call. Big blind re-raises. I have now said I will do what Matt does so when he calls I also call.
"The flop is J34 I check, he bets, Matt calls, so I also call. Turn is a three – giving me trips. Check, all-in, fold, and call – so I beat him and he has just 4k left. The next time I'm on the button I have pocket threes, and he has pocket tens. We get it in and I look up and see that I have hit a one card flush with the 3 of diamonds.
"I say on the interview how he punches the table, my chips go everywhere, and he's out of the door. That was the video that helped get me my deal – and it was from year's ago. Kirsty Thompson put me forward for the ambassador role. She knew me from UKIPT Final Table in Brighton in 2011. I was on this life mission to win it, so to be an ambassador for that tour was a great achievement for me. It was very rewarding."
Is poker your life?
"Yes, poker is my life. I did my 'A' Levels, became a waitress in the Big Bluff poker club in London. Then Equal Chance signed me and had a great run with them. James Akenhead started out with them as well. I forgot about doing my 'A' Levels and my main focus was poker.
"I have normal friends. When I meet up with them the lingo changes. But one of my friends – who hasn't got a clue about poker – told me she has been mixing with me too much because she keeps saying the word 'chunks.'"
What else do you get up to outside of the game?
"My sister and I opened up a men's barber shop, and ladies nail shop. I am in and out of them both all of the time. I do spend most of my time traveling the circuit. I have no idea what I am going to be up to. I need to find another direction now the FTP deal has ended.
"It's very hard to make money as a tournament grinder. If you aren't grinding cash games, here and there, it's tough. I was very blessed to get my deal. Nobody knew who I was at the time I got signed. The next thing you know I am on the front cover of magazines. My Mum became my biggest fan, and even created a scrapbook. That wouldn't have happened without my affiliation with FTP, so I will always be grateful to them for that."
Comments