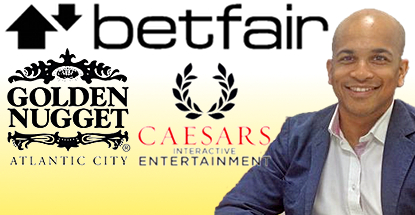 UK-listed online gambling operator Betfair has found a new (hopefully) permanent home for its New Jersey-facing operation at the Golden Nugget casino. Pending regulatory approval, Betfair hopes to make the switch as early as this Friday. Betfair is also hoping the third time will be the charm, as its New Jersey site has made gypsies look like paragons of permanence.
New Jersey requires its online gambling licensees to partner with a local brick-and-mortar casino partner, but Betfair's original Trump Plaza partner went belly-up in September. The state's Division of Gaming Enforcement gave Betfair a grace period in which to find a new home and Betfair appeared to have found that in October when it inked a deal with Caesars Entertainment. But wanderlust appears to have got the better of Betfair once again.
On Tuesday, Betfair US snr. VP for gaming Don Ryan said the company was "very excited" to be moving into Golden Nugget's spare room. Golden Nugget VP for online gambling Thomas Wynter said the "combination of our complementary brands" will allow the casino to "cater to an even larger demographic of NJ online players."
In July, New Jersey allowed its casinos to host up to five independent online gambling platforms and the BetfairCasino.com and GoldenNuggetCasino.com sites will continue to operate independently of each other. Combined, the two sites accounted for nearly one-quarter of the state's regulated online casino revenue in October.
CAESARS INTERACTIVE GETS NEW GM
Caesars Interactive Entertainment may have lost a tenant in New Jersey, but it's gained a new general manager in the form of Leon Thomas (pictured). Thomas, the former managing director of UK-based online bingo operator Tombola, will take up residence at CIE's Las Vegas HQ and will be responsible for the company's real-money online gambling "marketing, casino, poker and operational functions." In a statement, Thomas said that despite the US regulated market's well-publicized struggles, he saw "plenty of opportunity and optimism for what I know is a fertile and large opportunity."
NEW RECORD ONLINE SLOTS PAYOUT
CIE ranked third in New Jersey's online casino revenue for October but that ranking may slide when November's numbers come out. On Nov. 6, HarrahsCasino.com paid out $1.33m to a 31-year-old Morris County resident playing the site's Millionaire Genie slot. The windfall marks the first seven-figure payout for the state's regulated market and is just $200k less than CIE's total casino win for October. Company VP Adrian Bailey congratulated the lucky winner and said the company "can't wait to give away more money to our players." Too bad they don't feel the same about their junior creditors…