On the eve of their real money anniversary, the Equity Poker Network have parted ways with the gaming operator The 5Dimes Group, citing a "new phase of maturity" as one of the reasons behind the divorce.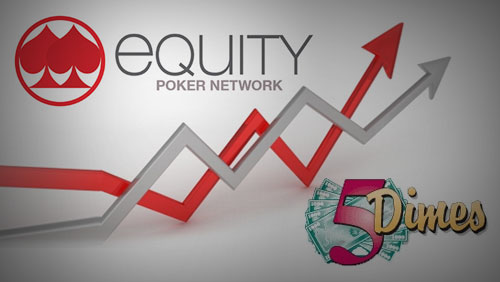 The Equity Poker Network (EPN) continues to shed more skins than a snake, after they announce a departure of the ways with The 5Dimes Group.
The news comes almost a year to the date that the EPN first opened for business, as a real money online poker operator, and it's the second time a skin has left the network, in recent times, after GearPoker left for pastures new in the summer.
The divorce means the poker rooms on the Island Casino, SportBet, and 5Dimes sites will cease to function on the EPN. Island Casino and SportBet have closed their poker rooms entirely, and the play will now consolidate on 5Dimes new network.
The EPN were keen to stress that their 'infancy online was very much about attracting established Operators as part of an important push for player awareness and added liquidity,' and it seems in their maturity that their focus on their recreational player base does not align with The 5Dimes vision.
"We are happy with where the network is heading, and with the steady climb in player numbers. Our month-on-month increased guaranteed prize pools, quality promotions, and consistently fast and reliable cashouts are markers of EPN's early success, and our growing reputation amongst players," said an EPN Spokesperson.
In early October, The 5Dimes skin was in the news for all the wrong reasons, after they reported a "chip dumping" scheme to their landlord's, after it was found that a 5Dimes player was deliberately dumping chips into the accounts of three FullFlushPoker accounts.
The departure of The 5Dimes skin will not affect operations at FullFlushPoker.com, or any of the EPN's other skins.
Comments