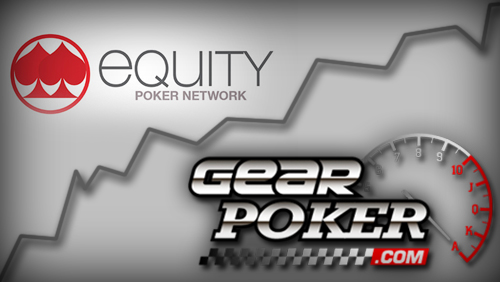 Equity Poker Network (EPN) and GearPoker have parted ways barely 10-months after first setting up camp together, and Real Gaming become the first online poker outfit in the U.S. to offer real money online poker on every conceivable device and platform.
GearPoker.com have parted ways with the EPN just 10-months after inking a deal to join the network.
It was Nov 2013 that the EPN founder and CEO, Clive Archer, welcomed the new online poker outfit, with open arms, after declaring that 'partnering with operators that are clearly on the same page as us is important for the longevity of the Network.'
It seems somebody turned that page because the press release I received stated that 'GearPoker's exit is simply a realization early in the partnership that each party has different ways of doing business – nothing more, and nothing less.'
The EPN have confirmed that funds will be returned to GearPoker players, and they will receive notification once the site finds a new home and opens back up for business. GearPoker joined the EPN from the Chico Poker Network in late 2013.
"This decision has been taken in the best interests of both EPN and the Operator. We wish GearPoker continued growth for the future, and we part ways amicably," said an EPN Spokesperson.
The EPN joined the Winning Poker Network (WPN), on the regulated online market sidelines, after withdrawing real money action from the states of Nevada, Delaware and New Jersey back in the springtime.
Real Gaming Available on All Devices
Real Gaming may well have been the third online gambling enterprise to enter the real money regulated atmosphere of Nevada, but they are going to be the first to offer their product across the entire suite of available devices.
The boys from the South Point Hotel & Casino are going to make sure that Real Gaming poker is available on iOS, Android, Mac, Windows, Linux, ZX Spectrum, Commodore 64, Atari and Intellivision (OK I got carried away somewhere), making the browser based online poker site the first to do so in the entire U.S
"At Real Gaming we strive to deliver new and innovative technologies for online poker players," said Real Gaming co-founder Lawrence Vaughan. "The ability to play poker on any device at your convenience is new to the industry. It completely changes the poker experience and brings poker to a wider audience. "
Comments