Daniel Negreanu and Jack McClelland will be inducted into the Poker Hall of Fame during a ceremony held at Binion's Gambling Hall in Downtown Las Vegas, on Sun Nov 9, 2014.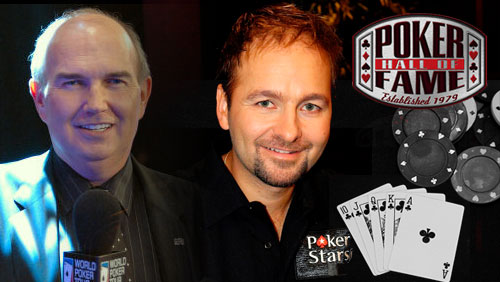 The Poker Hall of Fame Governing Council have announced the two inductees for the 2014 Poker Hall of Fame, and I don't think too many people will have a problem with their choices.
Step forward and take a bow Jack McClelland and Daniel Negreanu.
The pairing will take the empty spaces reserved for the 47th & 48th Poker Hall of Famers during an induction ceremony due to take place at the home of the World Series of Poker – Binion's Gambling Hall – in Downtown Las Vegas, Sun, Nov 9, at 7.30pm local time.
It's a poignant reunion for the pair as 63-year old McClelland was the Tournament Director when the WSOP was held there during the 80s, and 40-year old Negreanu won his first bracelet there when he defeated Dominik Bourke to win the $2,000 Pot-Limit Hold'em event way back in 1998.
For McClelland it will be a wonderful pick-me-up for a man who has suffered with health problems, in recent years, and is currently waiting for a heart transplant. McClelland recently turned down the opportunity to opt for a heart battery, and instead wait for a new heart.
"Gambling has been my life. Hopefully I made the right decision this time." McClelland stated in a letter sent to his good friend Nolan Dalla.
Negreanu will also be delighted with the news. The man, who is currently sitting atop the all time live tournament money list, with close to $30m in earnings, desperately wanted this. You could tell when he took to his blog to probe the question; "Does age matter?" after several people voiced their opinion, on Social Media, that Negreanu had time on his side.
Who cares about all of that old nonsense? Well, obviously not the current members of the Poker Hall of Fame and the Blue Ribbon Media Panel, because Kid Poker has got in at the first time of asking.
"Congratulations to the newest members of the Poker Hall of Fame," said Poker Hall of Fame governing council member Ty Stewart. "While a contrast in styles, there is a common thread between these two deserving nominees. Both live all-in on poker and have devoted their full hearts to the game."
In a nice touch, the Induction Ceremony will take place in the Longhorn Room: AKA Benny's Bullpen – the location for the first-ever WSOP Final Table way back in 1970. The Induction Ceremony will take place on the eve of the 2014 WSOP Main Event, due to take place over a two day period that will see a new champion walk away with the top prize of $10m.
Negreanu and McClelland were chosen from a short list that included: Chris Bjorin, Humberto Brenes, Bruno Fitoussi, Ted Forrest, Jennifer Harman, Bob Hooks, Mike Matusow and Huckleberry Seed.
"Being inducted into the Class of 2014 Poker Hall of Fame is a very exciting prospect and I am sure it will be a very humbling experience," said McClelland. "I thank everyone involved in this process and to the WSOP, WPT and all of the great people I have met and the wonderful people I have worked with throughout the years. Thank you for bestowing this honor upon me. I am very grateful."
"It's an honor to be inducted alongside so many great players that have come before me," said Negreanu. "An even bigger honor to be recognized at age 40, the same age as the legend Chip Reese. Thank you to the living members of the Poker Hall of Fame and those on the Blue Ribbon Media Panel that voted for me."