Lee Davy shares his own personal views on why he believes Tournament Director Jack McClelland should be at the forefront of everyone's mind when the votes are cast for the 2014 Poker Hall of Fame.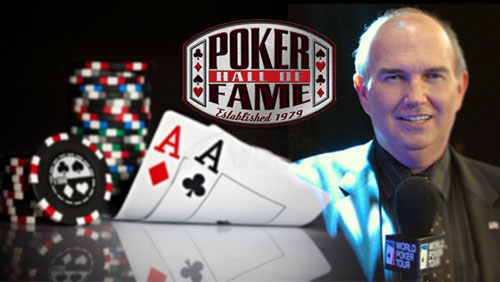 I never spoke to Chad Brown, I have never met Jack McClelland, and I have only interviewed Thor Hansen on one occasion, but these three legends have been on my mind ever since I received an invite to be a member of the Poker Hall of Fame media nomination panel.
It's my opinion, that once you're voted onto the Poker Hall of Fame short list, it's only a matter of time before you end up in this exclusive club. It's not a question of "if" but it's more like a question of "when?"
I form this opinion based on the theory that if your name hasn't already graced this list and you have been involved in the game for the past three decades, then you aren't at the forefront of the minds of those that matter.
Chris Bjorin and Jennifer Harman have appeared on the list for the past three years, Humberto Brenes and Mike Matusow were also on the list last year, and Huck Seed has appeared in three of the previous four years.
There are obviously holes in this theory.
The inclusion of Daniel Negreanu, and Bob Hooks, proving that gentlemen of the past can still be remembered, and kids of the future will always pass that eligibility date. That being said, I still think that it's only a matter of time before all 10 of this year's nominees will be enshrined in the Poker Hall of Fame.
This is why I am so upset not to see Thor Hansen's name on the short list.
Hansen has been on this list for the past two year's. Had I been on the panel, during those years, he would have gotten my vote. Now this is going to get very controversial, but it's an opinion that I want to share, because it creates so much passion within me, that I feel it must be shared.
Thor Hansen has been battling cancer for the past few years. His physician told him that people in similar positions do not live past two years. At the turn of the year, Hansen was still proving people wrong after undergoing over 110 doses of chemotherapy.
So I was amazed to see him playing at EPT Prague a few years ago. He looked as white as a ghost. His treatments obviously taking their toll on a physical level. But on a mental level he was buzzing. The poker table gave him the energy to keep up the fight that none of us want to face.
Thor Hansen will one day join the Poker Hall of Fame. Of that I have little doubt.
So what are we waiting for?
The World Series of Poker reacted very quickly when news broke that Chad Brown did not have long to live. By sending him an honorary WSOP bracelet, whilst he was still alive, was such a wonderful touch.
Can you imagine how that must have felt for Chad? To place that onto his wrist. The tears. The memories. The thought that it was all worth it. That he was loved, not just by individuals, but also by the community.
Not only did Chad Brown get to share that moment, but his family did also.
It's utterly priceless.
Back to Thor Hansen.
Do we want to hand him the accolade when he is still alive, or when he has passed?
For the moment it's a mute point, because he has not been nominated for the 2014 list but there is someone on this list who is also fighting for his life and that's the famed Tournament Director Jack McClelland.
Thanks to Nolan Dalla's blog, I am now aware that Jack is very sick with heart problems.
Am I asking you to break all the ethical rules and vote for someone because he is ill?
Yes.
Call me what you want.
I whole-heartedly support this view.
Every member of the 10 is deserving of a place in the Poker Hall of Fame. It's why they have been nominated by the general public, and it's why, by the time I am pushing up daisy's, they will all be in there.
So why wait?
We have the power to give life where it's slowly ebbing away.
Let's not waste it.
Comments