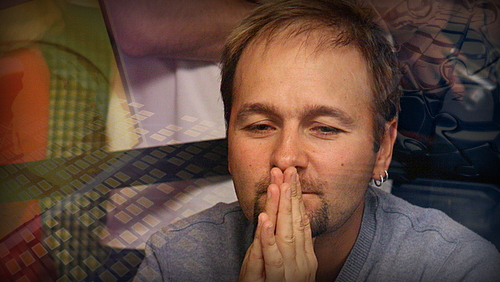 Daniel Negreanu has come under fire from some quarters of the online poker world this week after his BIG ONE for ONE DROP play prompted one member of the community to say he couldn't even beat 5/10 online at PokerStars.
Who is the best poker player on the planet?
If you sent Survey Monkey to the e-mail addresses of every professional poker player in the world, the number crunching would reveal Phil Ivey at the top of that list.
So with a seat on the all-time live tournament money earning throne, the accolade of being the only player to win two World Series of Poker (WSOP) Player of the Year (POY) awards, six WSOP bracelets (inc. A WSOP-APAC Main Event win), two World Poker Tour (WPT) titles, and the words 'Global Poker Index Player of the Decade' stitched into the collar of his jacket, Daniel Negreanu will be a little miffed that he is not the man.
Now don't misunderstand me. I think if you were to look at Negreanu's answer to that survey question it would have the name Phil Ivey on his ballot paper. So I'm not talking about the validity of who is the best but the legacy of who will be remembered as the best.
Negreanu is a man who is driven by the ideology of personal continuous improvement. You don't spend time in the Choice Center, and then try to help others learn those same lessons, if this is not your way of being.
So what more does Negreanu need to do in order to surpass Ivey as the greatest?
He needs to prove that he has what it takes to win consistently at the online cash game tables, and it seems that a few young wizards who sharpen their wands on these tables, don't think Kid Poker has got what it takes.
After some back and fore banter on Twitter, Daniel Merrliees tweeted.
"Haha Negreanu you're a dolt tho. Couldn't beat 5/10 on Stars I bet. Live poker is just lol-good sample bro."
Next came Negreanu's response.
"If I was interested in doing so, all I'm saying is that I have less than zero doubt I'd be a winning player."
A third player (@TyRaeL_88) joins in the fun and asks, "you can't be serious about this lol."
The line was drawn in the sand, handbags were chosen, and Negreanu decided to slap a glove across the face of online poker cash games.
"I couldn't be any more serious. 2 weeks. 5 hours playing, 4 hours studying numbers daily. Would bet a million."
It's not often that Negreanu puts his money on the line for the sake of ego alone. This is a man who is so high on general confidence that he has burn marks on his head from the halo of Gabriel.
When you think about it, the switch to online cash games is a good one for Negreanu. He has very little, if anything, to prove in the live tournament fold. He has one of the most secure sponsorship deals in the biz, plays tennis with Nadal, shoots penalties with Ronaldo and takes a hockey stick to the shin from Fatima.
Life is pretty good.
So where does the next challenge come from?
It seems that in life it is coming from the work he has done in the Choice Center but what about poker? How can he turn his bread and butter into champagne and oysters?
He has to move online.
The poker community believe that the sickos in the highest online cash games in the world are the best players, and that's where Negreanu should head, if he wants to leave behind a stronger legacy.
What makes Ivey so great is his ability to adapt to anything from No-Limit Hold'em to 52 Card Pick Up. If you take away ONE DROP scores from the All Time Money List quotas then Ivey would be sharing that throne.
Next stop High Stakes DB and guess who sits atop that particular online cash game throne? You've guessed it, it's Mr. Phil Ivey with over $19m in clear profit.
This won't be about people challenging Negreanu, it will be about Negreanu challenging himself. He loves poker, so why wouldn't he want to learn how to pit his wits in the bloodiest arenas in cyber sport?
The million does add a twist to the tale. It will whet the appetite of Negreanu; make him hungry and have him salivating at the chops. So who is going to step forward and bite his hand off?
It seems Dan Colman is interested.
The last time the Irish Robin Hood tangled with Negreanu was in that very contest that got the Twitter tongues wagging in the first place. It's not as if he hasn't got the money, and he has already gone on Twitter record to say, "I call, game is a lot different than 4-years ago."
I can feel a challenge coming on.
You could even turn this into a movie.
Krantz? Where's Krantz?
Oh, there you are.
The Micros was shit. You need a new approach. How about this?
"5 Weeks, 5 Hours Playing, 4 Hours Studying – One Million."