The biggest gambling industry expo of the year, the Global Gaming Expo (G2E) has officially begun, attracting thousands of delegates from around the globe.  Day one of G2E consisted of sessions only, with the much anticipated and absolutely gigantic expo floor opening tomorrow for three consecutive days.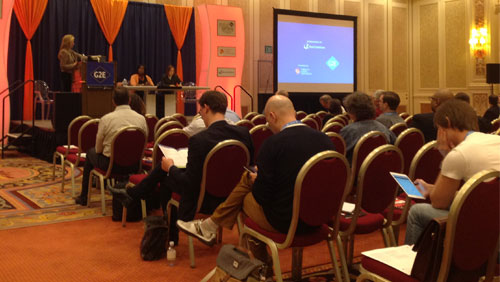 G2E's iGaming Congress was the busiest we've seen it yet, a one-day mini conference serving the regulated online gambling industry in America. The nature of today's sessions were introductory in nature, covering the usual topics of regulation, customer verification, bad actors and mobile.
Something to point out is that today's iGaming Congress was held in the Sands Expo, a property owned by iGaming hater Sheldon Adelson. The man himself will be making a keynote speech appearance at G2E on Wednesday, perhaps he will address the irony.
Today's "Data Designs: why you need to know your customer" session was packed, Moderator Melissa Blau even joked about the drastic increase in numbers since last year.  The customer verification process is known to be a pain point for operators globally, but the procedure is an absolute necessity for any iGaming operator today.
Luisa Woods of Tropicana explained that her company uses every single piece of customer data for something- for KYC, geo-location, responsible gaming, future communication and of course to satisfy the Bank Secrecy Act. To facilitate data collection from the customer, Tropicana allows existing "Trop Preferred Customers" from the land based property to enter their advantage number, pre-populating of a number of the fields required for Tropicana's online offering.
Over on the social gaming side, Frank Pracukowski of Foxwoods explained that his company goes through the same customer verification process as Tropicana, despite the fact that no real money is involved. Foxwoods has made the decision to spend the money up front to cleanse their database for a few reasons:
1)They don't want to solicit the wrong people. Pracukowski made the point that if online gambling was legalized in Connecticut tomorrow, imagine if a minor received a promo from Foxwoods for a free bet?
2)They want pure data…and so does the Gaming Commission.
The "Bad Actors: The Impact and Enforcement on Illegal iGaming Sites" session was full of opinions as usual, with Jeff Ifrah moderating along with New Jersey and California regulators sitting on the panel.
George Rover of the DGE reminded the crowd that it's a privilege to get a license and that a probationary stage for "bad actors" doesn't really make sense- he says you either get the privilege or you don't. Fellow panelist Jon Friedberg of Overlay Gaming Corporation, also the first affiliate to receive a license to operate in Nevada and New Jersey, agreed with Rover and added that there is a difference between a constitutional right and a privilege.
On the subject of "bad actor" affiliates, it's no secret that the DGE sent letters to a handful of affiliates asking them to remove any links to sites the are not licensed in New Jersey. Rover mentioned this move and added "affiliates are going to have to make a decision" and "we're going to roll out a policy soon."
The topic of "tainted assets" came up as well, clearly a reference to the Pokerstars-Amaya deal and their desire to operate in regulated America.
Richard Scheutz of the California Gambling Control Commission explained that while he won't share his personal opinion, companies operating in the US after UIGEA have obtained a huge database and are viewed to now have an unfair advantage over operators who exited the US post-UIGEA.
In response, Ifrah pointed out that excluding "tainted assets" from the regulated US market would be depriving Americans of the best technology out there and that it's not in line with what's historically been done in the gambling world- for example, mob owned casinos were not bulldozed down, they simply changed ownership.
During this very session, several other juicy questions were asked directly but the regulators skirted around the answers.  The first question addressed the likelihood of a compact between New Jersey and California, especially seeing how friendly Rover and Scheutz appear to be- Scheutz responded with California needs to sort out their iGaming regulations before thinking about compacts.  The second question was how the licensure of PokerStars in New Jersey will impact California- Scheutz said there will be no impact because online gambling is not regulated in California.