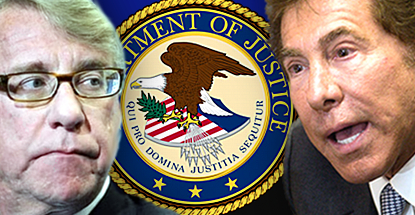 Wynn Resorts boss Steve Wynn has filed a federal lawsuit against a hedge fund founder for falsely claiming the casino operator had violated US corruption laws. The suit, filed in San Francisco on Thursday, accuses Kynikos Associates' James Chanos of telling people that Wynn had violated the Foreign Corrupt Practices Act (FCPA), which prohibits US companies from bribing other nations' public officials.
In the complaint, Wynn says Chanos attended an "invitation-only" event in Berkeley, California in late April. It was at this unspecified event where Chanos allegedly tarred Wynn with the FCPA brush, although Wynn failed to detail the precise nature of the comments. Wynn believes Chanos' words were false and defamatory and that Chanos knew them to be false. Wynn is seeking compensatory and punitive damages.
The complaint points out that (we're paraphrasing) there is no personal or corporate Wynn orifice that US law enforcement officials have left unprobed for signs of illegality but no dirt has yet been found. In July 2013, Wynn announced that the US Securities Exchange Commission had cleared Wynn of any wrongdoing in connection with Wynn's controversial $135m donation to the University of Macau in 2011.
The initial allegation that the donation was tantamount to bribery came via Kazuo Okada, chairman of Japanese gaming company Universal Entertainment and Wynn's former largest shareholder. Not long after Okada voiced his concerns, Wynn forcibly redeemed Okada's $2.7b stake in the company at a 32% discount and the pair have been locked in a legal death-grip for the past two-and-a-half years.
Chanos is a renowned short-seller of stocks who announced in May that he was pulling his money out of Macau casino companies, shortly before the world's top gambling hub took a revenue nose-dive. However, in a CNBC interview, Chanos declined to reveal whether he'd taken a short position on any casino stocks and thus would stand to make money if a casino's share price fell because of, say, rumors that it had been naughty and was preparing to write the Department of Justice an (at minimum) eight-figure check.
The suit comes just days after a different federal court reinstated a lawsuit over Wynn's alleged reluctance to acknowledge a gambler's self-imposed credit limit. The week also saw Macau's anti-graft agency publicly correct Steve's statement that the watchdog had finished its probe into a controversial land-rights deal involving the Wynn Palace property. The agency said the probe is ongoing, but declined further comment.
Comments