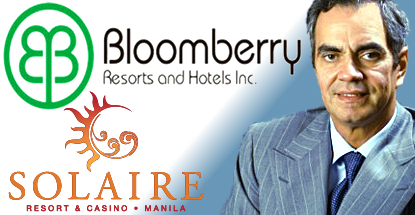 Bloomberry Resorts Corp, which operates the Solaire Resort & Casino in Manila's Entertainment City development, buoyed investors on Friday by reporting a significant improvement in revenue and profit in the second quarter of 2014.
Revenue in the three months ending June 30 rose nearly two-thirds to P6.77b (US $154.4m) while earnings rose 370% to P2.4b ($54.9m) and net income came to P846.6m ($19.3m), a whopping 37 times the P22.7m earned in Q2 2013. For the first six months of the year, the firm reported profits of P2.31b ($48.7m), a dramatic reversal of the P1.03b ($23.5m) loss reported in the same period last year.
Solaire may describe itself as an integrated resort, but over 95% of Bloomberry's H1 revenue came via Solaire's gaming operations, leaving just 4.2% contributed by hotel, food, beverage and retail. The firm, run by Enrique Razon Jr. (pictured), has taken steps to boost its share of the Asian VIP gambling market, signing deals with 56 junket operators as of June 30 (up from 47 in early May). International business has risen accordingly, but so have expenses paid to gaming promoters, which quadrupled year-on-year to P1.9b ($43.5m). Overall expenses in H1 rose 55% to P8.5b.
Solaire opened its doors in March 2013, the first of four integrated resorts planned for the Entertainment City development. Solaire plans to launch Phase 1A – featuring 312 additional hotel rooms, 30 to 40 more retail shopping options, more clubs and restaurants plus a 1,700-seat theatre – sometime in the fourth quarter of 2014. Around that same time, Solaire will get its first taste of serious competition via Melco Crown Entertainment's $832m City of Dreams Manila, which is set to open in October.