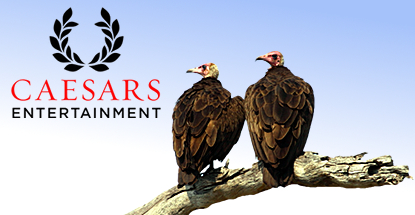 Debt-laden casino operator Caesars Entertainment Corp (CEC) has been hit with a notice of default by some of its major creditors. The bondholders, which Bloomberg reported include Appaloosa Management and Oaktree Capital Group, hold 30% of second-lien 10% bonds payable in 2018 by Caesars Entertainment Operating Co (CEOC), the division that holds the majority of Caesars' nearly $24b in long-term debt. The group filed the default notice with the US Securities and Exchange Commission. CEOC shares closed Friday's trading down 3% at $17.91 after dipping as low as $17.73.
Caesars is already the subject of two investor lawsuits, based on the company's ongoing practice of shifting its more profitable assets – including its online gambling and social gaming operations – out of CEOC into Caesars Growth Partners (CGP), thus preserving its ability to protect its money-making operations in the event of what most observers view as inevitable bankruptcy proceedings. The investor groups say these transactions were fraudulent, a charge Caesars has denied.
Caesars took a further provocative step down this road last month by selling 5% of CEOC to undisclosed institutional investors, a gambit that legally freed Caesars of the obligation to honor its guarantees to certain debt holders, based on a clause that alleviated some of Caesars' responsibilities if CEOC wasn't entirely held by the CEC parent firm. The bondholders insist that Caesars' public washing of its hands of its debt obligations constitutes a default and thus the picking of the bones should commence tout de suite.
Caesars issued a statement saying the claims in the default notice were "baseless" and vowed to "defend itself vigorously against any action taken by these creditors." Caesars CEO Gary Loveman said the company would not be "held hostage by a minority of holders whose interests are contrary to the long-term health of the company." Caesars insists that the asset transfers were conducted via "a rigorous, independent process" and had provided CEOC with the liquidity it needs to stay afloat. Caesars "have honored and will continue to honor their obligations under their indentures and expect creditors to do the same."