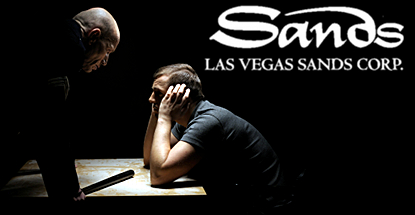 Macau VIP gaming promoter Iao Kun Group Holding Co. Ltd. (IKGH) reported rolling chip turnover of $1.75b in March, up 14% from March 2013 and marking the company's best performance since April 2012. Win rate was 3.27%, above the normal range of 2.7% to 3%. Total turnover for the first three months of 2014 is up 17% over the same period last year. The numbers stand in stark contrast to last year's overall performance, which saw net income slump 92.3% year-on-year to $5.4m. The Nasdaq-listed IKGH controls 40 gaming tables at five VIP rooms in Macau.
One of the casinos at which IKGH plies its trade is Sands Cotai Central, but for how much longer is anybody's guess. On Friday, Bloomberg reported that Las Vegas Sands is asking junket operators to provide more information regarding their business with Sands. An unidentified source said the move was sparked by Sands' need to cover its butt on the issue of money laundering, which has attracted the attention of US regulators, prosecutors and politicians. Spokesman Ron Reese said Sands' top brass "expect the company to set the standard for ethical performance" and "we look for partners who share and abide by that goal."
Sands hasn't done itself any favors in this regard. In 2013, Sands reluctantly agreed to curb international money transfers on behalf of its VIP clients, admitted its dealings with Chinese officials may have violated the Foreign Corrupt Practices Act (FCPA) and agreed to pay the US Department of Justice $47.4m to avoid criminal prosecution for their financial dealings with an alleged Mexican methamphetamine supplier. Sands' terrible 2013 may well have contributed to the US Treasury Department's recent announcement that it would require casinos to disclose more info on VIPs gambling at US facilities.
Bloomberg's source said Sands' quest for more info would likely reduce the number of junket operators with which it deals, either because Sands doesn't like what it learns or the junkets don't want to let Sands sniff their dirty laundry. The reduction could actually work in Sands' favor. Casinos have to share profits with junket operators, unlike the yields from mass market gaming tables, which can be up to four times as profitable as VIP tables. In January, Sands boss Sheldon Adelson said mass market table win per day could double when major transportation infrastructure projects on the Chinese mainland are completed.
Junkets may be (somewhat) falling out of favor in Macau, but they've just established a new toehold in a heretofore untapped market. The Hengsheng Group has entered into a deal to ferry Asian high rollers to London's Ritz Club. Gambling Compliance reported that the Hengsheng Group would act as the Ritz Club's exclusive partner for mainland China, Hong Kong, Macau, Singapore and Taiwan. The parties inked a six-month preliminary deal in January but hope to extend the arrangement before it expires in June.