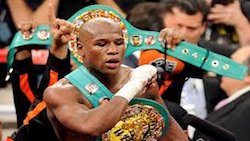 Leave it to Floyd Mayweather Jr. to show up for a press conference whenever he felt like it.
The best pound-for-pound fighter in the world showed up ah hour late for a press conference to announce his May 3 fight with Argentina's Marcos Maidana because, well, he was up gambling all night. Money Mayweather is our kind of dude.
Actually it was a really long night of gambling at the MGM, something Floyd admitted during the press conference nearly caused a riot in the MGM's casino premises. But that's how the man rolls and even if he didn't show up on time for the press con, the gathered media didn't appear to mind at all once he finally showed up.
This kind of news is typical of Floyd, who has a well-chronicled history of gambling. He regularly bets in the six digits, often posting his betting slips on Twitter and his proclivity to gamble has even led to some pretty wild rumors about betting – and – losing millions.
But of all that, this is our favorite gambling anecdote from Floyd Mayweather Jr: it happened during the lead-up to his fight with Miguel Cotto in 2012  during a taping of Face Off with Max Kellerman. At one point during the head-to-head interview, Money May motioned for an iPad from one of his handlers because he wanted to "check the game" and "watch his money". After that, Floyd gave his opponent a quick handicapping lesson, much to the amusement of Kellerman, and presumably everyone who watched that segment.
For his fight against Maidana, Mayweather is a prohibitive favorite to dispatch the Argentine slugger as sportsbooks have already penciled him as a 1/14 favorite with Maidana a 9/1 underdog.
With odds like that, who's really betting against Pretty Boy to lose this fight?
Certainly not those who know anything about Floyd Mayweather Jr.
Comments