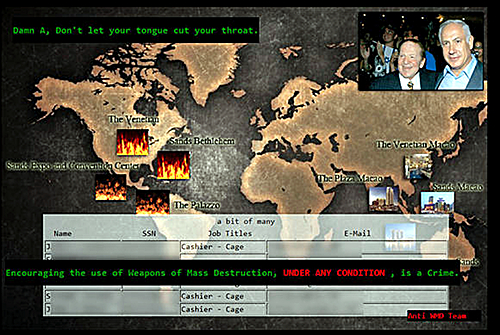 Websites belonging to casino operator Las Vegas Sands were taken offline Tuesday after apparently being hacked by individuals opposed to Sands chairman Sheldon Adelson's stance on Iran's nuclear ambitions. Instead of directions on how to book a room at the Venetian or Sands Bethlehem, visitors to the sites found a message from a group calling itself the 'Anti WMD team' apparently pissed over comments Adelson made last year suggesting the US should detonate a nuclear weapon in the Iranian desert as a warning to Iran's leaders to back off their nuclear program.
The hack replaced Sands' corporate home page and its dedicated venue sites with a map of the globe (screenshot pictured, courtesy of The Morning Call), with the locations of Sands casinos highlighted – and the US locations indicated by icons of flames. Sands employees' names, contact info and social security numbers were displayed in a scrolling list, while Adelson was pictured alongside Israeli prime minister Benjamin Netanyahu. Above the map was the following text: "Damn A, Don't let your tongue cut your throat" while text along the bottom of the page stated: "Encouraging the use of Weapons of Mass Destruction, UNDER ANY CONDITION, is a Crime."
Adelson is a staunch supporter of Israel, which has long argued that Iran's nuclear ambitions are intended to enable it to strike the country. In October, Adelson told a New York audience that the US should demonstrate its opposition to Iran's nuclear program by detonating a nuke in an uninhabited portion of Iran that would "not hurt a soul, except for a few rattlesnakes." Sands spokesman Ron Reese said the next day that Adelson had been "using hyperbole to make a point that … actions speak louder than words." Sands has yet to issue a statement on the hack and its sites currently remain offline.
SEEING OPPORTUNITY IN EVERY CRISIS
It remains to be seen how long it will take the Coalition to Stop Internet Gambling (CSIG), Adelson's anti-online gambling lobby group, to use the hack to point out the vulnerability of the internet and the inability of online gambling operators to prevent terrorists and criminals from gaining "a foothold in every American household." At least, that's the message in the new CSIG commercial (viewable below) that continues CSIG's policy of bending the truth to Stretch Armstrong proportions.
Adelson's group recently sent a letter to members of the American Gaming Association (AGA) claiming that Senate Majority Leader Harry Reid (D-NV) was opposed to efforts to legalize online gambling, conveniently ignoring the fact that Reid's opposition was limited to online casino games. In reality, Reid's spokesman said his boss "supports the efforts of states to decide for themselves whether to legalize internet poker," something Adelson has dubbed "the most addictive game." Which makes the CSIG letter's plea "that our debate should be based on facts" all the more ironic.
Frankly, given the demonstrated duplicity of CSIG's efforts to date, which also include massively overhyping the FBI's position regarding online gambling and terrorism, one could be forgiven for suspecting that the Sands' site hack was a false flag attack intended as an illustration of the internet's undependable nature. Probable? Doubtful. But given CSIG's track record, possible.