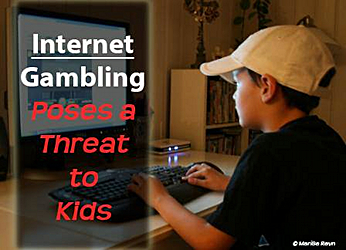 The Coalition to Stop Internet Gambling (CSIG) – the anti-online gambling group bankrolled by Las Vegas Sands chairman Sheldon Adelson – has come under fire for a late-December Facebook post that appeared to suggest online gambling companies were seeking to recruit children as customers. The photo (pictured right) clearly depicts a prepubescent child sitting at a computer, apparently gambling away his college fund via an ill-advised decision to take a hit on 17. The caption includes a quote from 'gaming experts' who say online gambling "is in part intended to draw the younger generation into gambling."
CSIG's photo has earned the ire of many a Facebook poster, including Poker Player Alliance exec Rich Muny, who wondered if CSIG sincerely believed that casino companies like Caesars Entertainment that support online gambling were really targeting children of the age depicted in the photo. Given that CSIG's other posts include long discredited fables about online poker having been invented by Al Qaeda to fund its attacks, we'd suggest Muny's internet hours might be more productively spent trying to convince Grumpy Cat that life really isn't that terrible, but to each his own.
The CSIG photo is reminiscent of the recent South Australian government PSA campaign about how social gaming sites were grooming kids to become real-money casino gamblers. Those billboard ads were removed after the local video game industry association pointed out that it was against the law for ads to contain claims that have no basis in fact. Sadly, the law's a bit different in 'Murica, so we can likely expect future CSIG posts to argue that Caesars CEO Gary Loveman wants to use your infant's entrails to grease his online slot reels.
THE COALITION TO STOP SHELDON GROWS
Fortunately, online gambling is attracting more deep-pocketed backers than opponents. Forbes recently reported that financial heavyweights George Soros, John Paulson and Leon Cooperman were among the investors who'd taken major stakes in Caesars Acquisition Co., the Caesars subsidiary that controls the company's online gambling operations, which was spun off from its parent company in October 2013.
Also adding online gambling proponents is the American Gaming Association (AGA). The AGA was once firmly on Adelson's side regarding online gambling, but had a 'road to Damascus' conversion a few years ago. Just before Christmas, the AGA added three new board members, at least two of which are supporters of online gambling. This week, AGA boss Geoff Freeman told The Hill that he'd enlisted President Obama's 2012 campaign manager Jim Messina "to work on grassroots initiatives," a category in which Freeman says online gambling resides.
Freeman didn't quite come out and say it, but the addition marks a belated recognition that the fight for regulated online gambling in the United States is now purely a state-level endeavor. (A process Calvin Ayre predicted years ago.) For years, the AGA had put all its efforts into lobbying federal politicians, but now a "big shift" is in order. Freeman said the AGA is "becoming a more proactive group," concerned "less about legislation and more about defining the image of this industry, not in just Washington but in the states as well."
Hopefully Freeman puts a little more effort into his next pro-online gambling op-ed, as the one published in The Hill on Tuesday featured the headline "Regulatie [sic], don't ban, online gambling." (And the footer credits someone named 'Freemn' with holding Freeman's position at the AGA.) If you're looking to define the industry's image, shouldn't spelling count?