The sports scene in North America had all sorts of drama in 2013. Some were of the organic type: a shot to save a season; a comeback to end all comebacks. And then there were those that just were too bizarre to comprehend.
From champions to catfishing, 2013 had it all.
The Championship That Wasn't
The Shoeless Mike Miller Game. The No-Headband Game. The Vintage Manu Game. The 2013 NBA Finals had it all – and then some. If you're a San Antonio Spurs fan, you're probably still sick of what happened in the last 28 seconds of Game 6 when the Spurs seemingly had the game – and the title – in hand. But Ray Allen happened and, well, you all know the rest. The ball bounces one way and we're talking about how awesome the Spurs dynasty is and how the Heat are now 1-for-3 in the Finals since LeBron James took his talents to South Beach.
But you know what they say, the ball is round for a reason – and no one knows more about how that feels than the Spurs.
Stanley Cup Stunner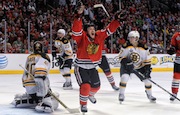 Speaking of gut-wrenching losses, the Boston Bruins could give the Spurs a run for their money. On their way to a series-tying win in Game 6 of the Stanley Cup Finals, the Bruins – at home, no less – surrendered two goals to the Chicago Blackhawks 16 seconds apart in the final minute of the game, essentially gift-wrapping the Stanley Cup to the 'Hawks in one of the most brutal ways imaginable.
Misery loves company and both the Spurs and the Bruins know that feeling all too well.
The SuperBowl Blackout
In one of the weirdest SuperBowls we've seen in quite some time, we're all going to remember this game for one episode – and it didn't even involve the Baltimore Ravens and the San Francisco 49ers. Years from now, the lasting memory of SuperBowl XLVII will be the blackout at the Superdome, causing the game to be delayed far longer than everyone would've wanted.
Conspiracy theories abound on exactly what happened but we're not going to relive any of it anymore. The Ravens beat the 49ers in what turned out to be a hell of a finish but it's a shame that the indelible moment of the game happened in the dark. And quite literally at that.
Aaron Hernandez's Fall From Grace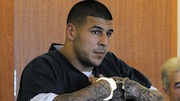 Aaron Hernandez was on his way to be a star tight end in New England. But everything came crashing down in June when Hernandez was charged with first-degree murder in the death of Odin Lloyd. He's still awaiting trial for the charges, but all the details that came out immediately after that news broke painted Hernandez in a far different light than what we all thought he was. If he's found guilty, he's facing life in prison without parole – a staggering and shocking turn-of-events that left a whole lot of people all over the world with their jaws on the floor.
Jason Collins: Pioneer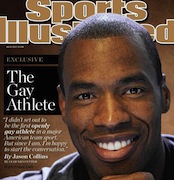 We don't know what has turned out to be a bigger story: that Jason Collins came out of the close in September or that he hasn't found a job in the NBA since doing so. We applaud Collins for the bravery it took for him to be a pioneer in his own way, but we find it odd that he's still not on an NBA roster with the season now in full swing.
Some people think that turning him into a charity case is an insult to his decision to come out, but at the same time, it's of equal – maybe even greater – importance to see him in a stage where he can be a role model for young ones in the world who are afraid of following his steps. If you can have so many scrubs in the league today, there's no reason why Jason Collins doesn't have a roster spot.
Boston Strong
You can always count Bostonians in turning tragedy into a rallying cry. The Boston Marathon bombings will forever go down as one of the saddest and most disturbing sporting moments of the year – and that's saying something. One of America's classic sporting events became the scene of unimaginable horror when two brothers set off bombs that killed three people and injured over 250 people near the finish line of the marathon.
But through the horror, Bostonians rallied together and used the tragedy to tell the world that, in the words of Boston Red Sox captain David Ortiz, "This is our fucking city…and nobody's going to dictate our freedom!"
Boston Strong.
Where In the (Majors) World is Tiger Woods?
There are four majors played during a calendar year. This year, Tiger Woods won none of them. Same as 2012. Same as 2011. Same as 2010. And same as 2009. It was the 2008 US Open when we last saw Tiger hoist up a majors trophy – and he did that one with a torn ACL. Since then, Tiger's been on a drought that counts for multiple eternities, at least in his own world. Questions are now being asked if he can even catch Jack Nicklaus' 18 major championships since he's been stuck at 14 for more than five years now.
But we still believe, if only because he's been close multiple times in the past. A breakthrough is bound to happen; it's just a matter of when and where it's going to be.
Catfishing Bites Manti Te'o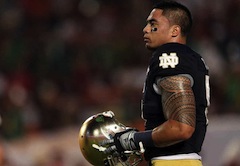 At the time that the news exploded, we still couldn't make anything out of it. Manti Te'o, regarded as one of the best college football players in the country, was involved in one of the most bizarre stories of the year. First, news broke that his girlfriend, Lennay Kekua had died only hours after his grandmother had passed. Then, it turned out that said girl never existed.
After that, Te'o was painted as either a victim of a cruel hoax or a co-conspirator in a come-to-life soap opera, at least depending on what you believed. Then, the supposed mastermind behind the hoax, Ronaiah Tuiasosopo, admitted that he was in love with Te'o.
It's the tail-end of the year and the whole story still makes us cringe.